One afternoon during our stay at Davis Mountains State Park we took a short side trip over to the McDonald Observatory. Considering that we'd been seeing it from our hikes the last couple of days it appeared to be a good side trip. We had to head to the overlook at the state park one evening to get cell reception so we could look up the times and reservations for the solar viewing and tour and was lucky to find a time slot that was still available. Unfortunately the star party was not open so we did not get to enjoy that! If you don't have reservations you can drive over to the visitors center and have a look as well as drive over to the different observatories to have a general look at the outside and the view of the area from the top of the road. It's still inspiring to see if you didn't have the time for a tour!
The solar viewing took place in an auditorium at the visitors center and for the most part Forest wasn't too fidgety. A lot of what was talked about is escaping me now but we got a brief run-down on the history of the observatory, the different telescopes, and a bit about how the encroaching light from oil and gas exploration north of there, particularly north of I-10, is brightening the night sky in that region.
It was frigid up at the top where the observatories were located, the wind whipping through causing everyone to huddle against the building where they could. Thankfully we went inside but it was still chilly in there to keep the machines calibrated appropriately when they opened the top up at night.
If you are in the area it is worth a stop in for the tour!
Our campsite at Davis Mountains State Park was rather narrow and abutting Keesey Creek, which was dry. Because it was so near the campsite it made for an easy play area for Forest where he spent a lot of time playing with the mullein growing up and down the creek bed as well as stacking rocks and generally have a grand old time in imaginary play. The evening light down the creek bed was gorgeous every night and I wanted to play around with some freelensing as I don't do that very often. The results were all over the place but even the out of focus dream-like images I still loved.
The few photos of him in the field of grass were from the open area between the bathroom and education center, and the creek bed and we were winding our way back to camp after visiting the education center one late afternoon and the light was just right.
It's not easy to get him to post for photos these days but when I can manage it I take advantage of the moment!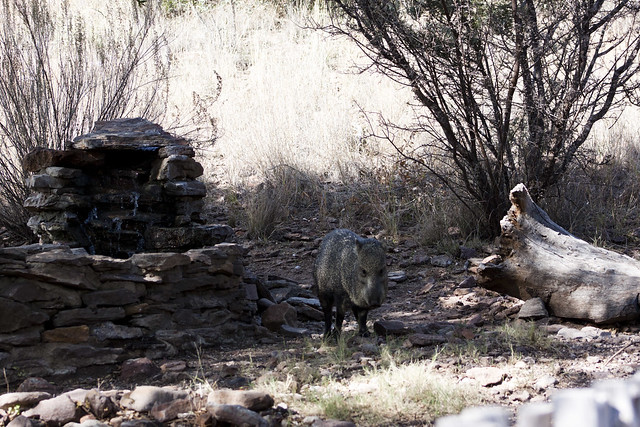 After our hike at the Indian Lodge Trail we stopped by the Emory Oak Wildlife Viewing Area, a beautiful building where birders and wildlife watchers can sit inside during more inclement weather and view through the windows, or walk around to a viewing area outside. We were poking around when we noticed javelina just off the trail. At first we noticed one and then another and soon it was an entire family group hiding under the trees. We watched from the trail for a few minutes and then backtracked back to the building as several of the adults wandered to the water source to drink. These family was not skittish as I'm sure they are used to people being around frequently. A few nights later Chris has a run-in with a couple at the campsite when we heard them trying to scavenge after dark. Anything the campers leave behind gets scarfed up!
The last time I'd seen javelina was back during spring break of 2000 when we took a trip to Big Bend National Park with some friends.
More Information on Javelina in Texas via TPWD
Let's not go into how many times I've tried to write 'collard' instead of 'collared' while writing this post or looking up information about these animals!

That wonderful warm weather we had earlier this week is now gone. I had an appointment in town yesterday morning so I watched the temperature rise to 75 at 10 am and then start dropping mere blocks before I arrived to work. When I got out of the car it was 67 and by the time I left at 5pm it was 51.

I was just getting used to wearing crop pants and t-shirts again! I know, in a few short weeks they will be back out for good until next October.

Let's go on a garden tour! I took these photos on Tuesday at lunch. This is a bluebonnet seedling, one of a couple I saw in the garden.

A rather ragged look at the garden here. I would love to get this fence fixed but I'm honestly not sure it will happen unless we (read: our neighbor's since it is their fence) put in a whole new one. It's now been like this for I think three years after a spring wind storm caused a branch of the elm tree above the garden to crash into the garden and crumple the fence. The problem is finding the square metal part at the top when most fences these days are now round—Chris has come up empty looking for that piece. At least when the passiflora covers the fence it makes it less unsightly.

I think my next task when I can find the time is to get the path cleaned up and get some new decomposed granite put down. And hopefully get the house painted in the next few months.

Rhododendron bud with lichen

I'm interested to see what this side looks like when it fills out this year. Since I moved the Argentine senna to where the almond verbena was (near the well) it will open up the area on the right where the banana trees where. I'd like to move a fern that is underneath the fig tree where Chris waters his orchids and bromeliads because while I know most ferns enjoy a lot of water, this one has seriously declined with the amount of water it receives from runoff from above. It has put on new growth this winter because it hasn't received that much water while the orchids and bromeliads have been in the man-cave and so I think moving it to the other side where the senna was would be a wise move.

The brugmansia that didn't die back! I thought it had died back after the freeze in November but when it warmed up in December it put on new growth throughout the plant and well, here it is! I covered it a few weeks ago when we had another light freeze and just a few bits were burned but otherwise it looks healthy!

The edible garden is slosh pit all around. It is impossible to use the wheelbarrow at the moment as it ruts the ground just outside the fence. The wet winter paired with whatever is going on with the drain pipe that drains the front yard and runs under our neighbor's yard to the easement next to his house, well it is really causing a problem. The groundwater is staying very high for this reason.
A few weeks ago I finally pulled up the pennywort that was acting as a groundcover in one of the perimeter beds near the strawberries. I'd been leaving it there because we didn't have mulch to put down and I'd rather have it growing than bare ground but since I had some mulch I finally pulled it up. It was a bit pleasing to pull it out in mat-like chunks but underneath was just one big mud pit and the groundwater was near the surface. In hindsight we've both thought that maybe we should have either brought in more dirt than we did to raise that area up even more way-back-when or sited the garden elsewhere, which there aren't really any other great spots to chose from.

Because it is so wet out there I haven't had the desire to do much weeding or upkeep out there. I get out a couple of times a week to pick greens for salads and check on things but I'm not doing a lot. More spring ephemeral weeds are popping up now so I'll need to get back on top of that soon.

Seeing the calendula bloom was a delight out there and this bee gave me some entertainment for a few moments.

Cilantro blossoms

Japanese hawkweed, Youngia japonica, a prolific weed around here. I usually pull it but sometimes I leave it because Forest loves to pick its flowers.

Lyre-leaf salvia, Salvia lyrata, sending out flower spikes.

A nearly equal mix of purposefully planted and grown by Mother Nature in this bed.

I am really enjoying the Morris Heading Collards! They are extremely mild and not so thick that when you add them to salads they aren't chewy. Daikon radishes are in the back.

Chard—I swear it always takes the longest time to germinate and get established but come spring it is there waiting for you to harvest.

Our lone self-sown borage from last year's crops.

The peas seem to be languishing a bit. I feel like they are usually larger by this time. I guess I need to sift through the archives and compare.

And finally some better photos of the second pipevine swallowtail from Tuesday.

Pipevine # 1

Pipevine # 2
Spring is, well, I think spring is starting here in southeast Texas. We started seeing signs of it the last two weeks but it is becoming even more prevalent over the last week. Over the weekend we went up to DFW and I didn't even think that I should have left the butterfly cage open in case a pipevine eclosed. It had been since sometime in December when I had the odd one eclose and if I recall correctly, I had another one in December considering the number of open chrysalides I have.
We arrived home late on Sunday evening and it didn't occur to me to look out and see if a butterfly was in the cage so on Monday morning when I saw a butterfly hanging from the top of the cage I knew this one had been out for at least a day. Oops! I let it out at that morning before work and knew that with the stretch of 70+ degree days we would be having that the rest would try to make their appearance soon. And one did yesterday at lunch. It was still relatively fresh and drying its wings. I let it crawl onto my finger and then put it on the fig tree (which is putting on leaf buds!) for it to finish drying and warming in the 70* sunshine.
My last wildlife for the day is a roadkill beaver that I came across as I was leaving the neighborhood the other day. The beavers seem to fluctuate in the pond seasonally or yearly and they have returned recently. One has been trying to build a den along our shoreline and after some debating, Chris decided to let it continue. Thankfully it found a better place than it originally wanted to set up shop. So when I saw the dead beaver I worried it was our little friend. I'm still sad that someone hit this beaver because it was in an area that it could have easily been avoided. Incredibly frustrating.
I'm almost done editing photos from the Davis Mountains—I could have been finished a month ago but I've been lazy—and so I'll be returning to writing about that soon. I also walked around the yard yesterday to take photos of the garden so I'll be having a garden update as well. It's a muddy, sloppy mess out near the edible garden—ugh.
Happy wildlife Wednesday—what's going on in your neck of the woods?
Thinking:
On the politics front:
+An Open Letter to Howard Schultz by Jon Lovett of Crooked Media/Pod Save America/Lovett or Leave It. Unless you are a third-party (and not insane) conservative, stay out of the 2020 race. We don't need you jacking up the election.

+Any time Ted Cruz gets taken down a notch is a good day in my book. From what I understand Senator Bennett is usually mild-mannered so him going off on Ted is pretty spectacular!
+I'm glad to see so many women announcing exploratory runs for president but the only two that I see so far having a chance are Senator's Warren and Harris. And to be honest, I think Warren serves best in the Senate and I'm increasingly interested in Kamala Harris. However, I'm holding out for a Biden/Beto ticket. I'm interested to see where we are in a few months with more people joining in. I hope Kirsten Gillibrand bows out soon, though.
Other:

Loving the new Wild East campaign by the Appalachian Trail Conservancy! We also just received the latest Journeys magazine for ATC members and it has a lot of great information on the campaign. I'm glad to see it because sometimes it feels like wild places that aren't "out west" get left out of the conversation.

"World Wildlife Fund Mexico in collaboration with CONANP and the Monarch Butterfly Biosphere Reserve (MBBR) announced the total forest area occupied by overwintering monarch colonies today. Fourteen (14) colonies were located this winter season with a total area of 6.05 hectares, a 144% increase from the previous season."–the monarch butterfly world is very excited about this news! Monarch season is around the corner for us!
Gardening:
Other than starting tomato seeds earlier in the month, I've not been doing a whole lot. I had Chris get mulch twice this month so I could finish mulching the flower garden and we now have some left over for the edible garden but because of the clogged pipe issue in the front yard and a lot of rain recently, it has stayed super soggy out there. Just today at lunch I moved what was left in the back of his truck to a tarp just outside of the edible garden and we will likely move it by buckets next week because it is so soggy at the entrance that moving it with a wheelbarrow is causing rutting.
The harvest in the garden is coming along with a lot of greens right now. The bok choy is mostly bolted but everything else is thriving. I'm concerned about the chives, though, I think they may finally die out from wet feet after putting up with it for so many years. We'll see. Maybe they will come back like they usually do. Chris sowed sugar snap peas, onions, and lettuce earlier in the month/end of December and we have one bed left open that I'm not sure if it will get planted with a cool season crop or end up with tomatoes. Considering that it is February tomorrow and our February is looking to be jam packed, my bet is on tomatoes.
The flower garden looks good at the moment despite dormancy for most everything. I've moved a couple of plants around, particularly the Argentine senna (Senna corymbosa) which we had placed in its original spot when other plants weren't in the way and after some discussion and grumpiness between us with differing opinions, I moved it to the place where the almond verbena has been. It should come back, I've scratched a bit of the bark and it was still green, so crossing fingers, it will be a good fit for the location.
I also moved the black and blue salvia (Salvia guaranitica) in 'my' bed from the edge of the bed to the back. We had three plants and I separated them out and now they will line along the back of the bed—probably to compete eventually with the passionvine that will swallow it whole sometime in August. I have a bag of stratifying seeds in the fridge I need to sow at some point.
Loving:
+This mural the Sunshine State Seekers painted of a section of the Florida Trail in their house!
+The Botanical Hiker on the Florida Trail
+Boundless Roamad and his blind pup Katana on the Florida Trail
Reading:
I just gave my book report the other day but I'm currently reading Thirst: 2600 Miles to Home by Heather 'Anish' Anderson, Alone on the Wall by Alex Honnold, and How to Talk so Little Kids Will Listen by Joanna Faber and Julie King.
The first I just received this week after ordering it when Anish posted she was selling signed copies of her new book about her FKT of the PCT in 2013. I have a super strong suspicion that she is going to attempt an FKT on the FT this year—this is just my hunch based on a few cryptic things she's posted, her current location being in Florida, and the fact that the return address on the book I received was from a well-known hiker friend of hers. Like I said, just a hunch, I could be wrong, but I'd be happy to see it.
The second is an audio book about Honnold's free solo climbing experiences and a bit of a history of the sport of climbing. I'm only about 14% into the audiobook but am enjoying it. If you aren't familiar with Honnold he is the first person to free solo El Capitan in Yosemite. There's a movie about it that I'd love to see at some point.
And the final is a book I've heard talked a lot about in parenting circles and I finally got a copy of it from the library. I may need to buy it or scan certain sections so I can remember some key points. 4 year olds are hard, y'all.
Making:
Not really anything. I bought a bench for my keyboard so I could start playing and work on my 39 Things for 2019 list and I've been somewhat diligent about trying to play. I need to remember to sit down there more.
Watching & Listening:
I have done a lot of watching now that tv shows are back on. The Big Bang Theory, This is Us, and Grey's Anatomy are the standard fare with Outlander just finishing up it's 4th season (way too short considering how much content was cut or changed from the book), and Victoria just started up again. I just saw a trailer the other day for The Spanish Princess about Catherine of Aragon, Henry VIII's first wife. It's based on the Phillipa Gregory novel and I'm very intrigued by it. Not sure when the debut date is.
A few movies I've enjoyed on Netflix lately: Blue Jay, Our Souls at Night, Before We Go. I've also gotten into Grace and Frankie over the last week after several people told me how good it was and they were right!
I've also watched two random Downton Abbey episodes because they were recorded on our DVR and it reminded me how good that show was. I may have to break out my DVDs for a rewatch at some point.
Podcast episodes that I've loved lately aren't coming to mind so I'll leave it at this!
What's up with you?
It's been a bit since I've done one of these but the reading groove has returned and so my book reports are back!
Trespassing Across America: One Man's Epic, Never-Done-Before (and Sort of Illegal) Hike Across the Heartland by Ken Ilgunas: I've had this flagged to read on Hoopla Digital for a long time now and had been in the mood for an audio book one day and it sounded enticing at only around 7 or so hours. I sped it up to 1.5x and after a few minutes my brain caught up and I was able to handle the pacing change. The author has several books out that are in the realm of hiking and vagabonding–a most recent one called This Land is Our Land about the loss of the right to roam, such as what many European countries have in existence and what the US had up until a certain point–I can see that that book was beginning to be developed as he was hiking across the Great Plains.
The premise of this book is that the author wanted to hike along the proposed and what existed at the time, Keystone XL pipeline from Canada to Texas. In many aspects there are similarities to a typical thru-hike along an established trail, in other instances it is vastly different. I felt like he spent a lot of time talking about the northern end of the pipeline path versus the southern route and the last bit through Texas seemed rushed. Otherwise, it was an interesting book and still holds relevance today.
Refuge: An Unnatural History of Family and Place by Terry Tempest Williams: TTW has been on my radar for several years now and I've even read essays by her and heard her on some radio shows but I've never indulged in her books before. I bought this one last fall sometime at a used bookstore and in my effort to read more books made with paper that I already have, this one seemed like a good start. Despite being written and taking place in the 1980s, so much of the book is still on point with today's conversation in regards to the environment and women's issues. I also learned a great deal about the Great Salt Lake because the book is portioned into sections talking about the environmental history of the lake, particularly to flooding that happened in the 1980s, as well as the Bear River Migratory Bird Refuge.
Coinciding with the environmental talk, TTW navigates us through her mother's cancer treatment, remission, and eventual death. We're flashed back to her mother's first bout with cancer, breast cancer, and then how it ties in with many other family members dealing with cancer and how a lot of it is tied to nuclear testing in the 1950s in Nevada and Utah. It's a well-written book and if you are wanting to dip your toes into her books, my brief history with TTW says you can't go wrong with starting at this book.
A Study in Scarlet Women (Lady Sherlock, #1) by Sherry Thomas: Another audiobook. My only experience with Sherlock Holmes is via pop culture and the tv series Sherlock with Benedict Cumberbatch. I've never really had the desire to read the actual novels but this was a fun re-visioning of the old story with Charlotte Holmes as the main character and a very surprising side-kick Watson. I enjoyed it, though at times because it was an audiobook I lost track of a few side characters and finally put two and two together after awhile. I will definitely read sequels when I feel the need for some fluff.
Mastering the Art of Vegetable Gardening: Rare Varieties • Unusual Options • Plant Lore & Guidance by Matt Mattus: I've been a fan of Matt's blog for many years because he is a gardener that you don't see too often on the internet—he's a plant collector and enjoys all aspects to gardening. Plus, he just shares heaps of knowledge about gardening with very detailed posts. When I saw he was writing a book I was very happy and so I pre-ordered his book in December for it to arrive in early January. The book is gorgeous and well thought out but I do think that perhaps it might be for slightly less experienced gardeners. Not that I'm an expert, however I felt that some of the information could be found in the plethora of other gardening books out there. Yes, some was new and there were some crops that I don't grow or grow often that I could find myself referring to it from time to time. Overall it is is a great book to have in any gardener's collection.
The Lost Girls by Heather Young: This book kept me on the edge of my seat! I was looking for something to read over Christmas and found this and couldn't put it down. Flashing between 1935 and 'present day'—I'd put it at late 90s early 2000s—the story of several generations of family who had a summer retreat on a lake in Minnesota. I don't want to give away too much because it is a story with lots of twists but if you like generational saga, drama, and some thriller aspects, this was a good one to read.
The Underground River by Martha Conway: Another book I picked up on Christmas break it involves two cousins who work on theater river boats along the Missouri River. A boat sinks and the cousins get separated, and the actress cousin comes under the wing of a rich woman and encourages her to use her acting skills to hold public rallies as an abolitionist. May, the younger cousin had previously been a seamstress and isn't needed by the rich woman and thus has to find a way to make a living without her cousin. She finds work on another boat and well, lots of interesting situations occur. I hadn't thought about rivers being used to smuggle slaves to the north and this details some of this part of the Underground Railroad and some of the problems that arose and just how precarious it was to transport slaves to the north. While those in the north may not have owned slaves, they certainly weren't all abolitionists or anti-racists. It was a light read but packed with information that I found fascinating.
I'm of course reading multiple other books right now and will hopefully stay on this trend of high volume reading. Podcasts haven't been doing it for me lately so I suspect I'll have more audiobooks in the coming weeks.
What are you reading?

*Photos are from our phones. Left the cameras at home.*
It's always hit and miss in December through February with camping plans around here. We canceled a weekend camping trip back in December and I thought we were going to make last weekend's reservations but it became clear that it was going to be iffy as the week wore on with rain and cold front. The rain came at night in a short downpour leaving strong winds in its wake the next day. While it was sunny, it was also quite chilly. Nighttime temperatures were dipping in the 30s. And when it is only one night, packing for a family of three amidst cold and rain doesn't sound fun.
That said, I think all of us wanted to do something so we made a plan to find somewhere to hike on Sunday afternoon. I miss a lot of the whimsical out and about adventures that we used to have pre-Forest, the ones where we'd go off geocaching in the afternoon and get back early to late evening. This hiking adventure felt a bit like that but with an intention to arrive back home before dinner so there was plenty of time to cook.
Considering it has been quite wet in the last few months and with the more recent rain, we thought hard about where we would want to hike. Our go-to of the Lone Star Trail seemed like the most viable alternative but as you see in the photos, it too was rather sloshy. Chris and I had actually done part of this section before back in 2011 when we did a larger loop. This time we parked at trailhead 4 and headed west along Little Lake Creek Loop with an idea to walk until we felt like turning around.
Despite a vigorous start to the hike with Forest running up and down the slopes from the creeks, somewhere around 0.8 miles in he started getting a bit stinkery, picking up large sticks that was far too big for him to carry long, slowing down, and generally being a little frustrating to hike with. After we told him to knock it off and find smaller sticks there was a melt down and then the proclamation to "Carro Me!" Yes, it's 'carro' though he can say carry quite well, he just likes to bring that out when he's needing more attention.
Being as he's nearing 40 pounds and we were carrying backpacks, the possibility of us 'carroing' him was not likely. More tears ensued and protestations before I somehow managed to convince him to continue walking and change the subject to where we found a stalk of grass to pick. Mere minutes later that said grass somehow caused a cut on his finger which turned into needing to pull a Band-aid out of Chris' pack. Luckily the cries for 'carroing' did not continue and a more cheerful 4 year old returned.
At this point the drier part of the trail was ending and it became a game of finding the least wet part of the trail to walk on, sometimes jumping from side to side to avoid wet shoes.
Eventually we came to Pole Creek and shortly after the signs for the split of the Little Lake Creek Loop and the Pole Creek Trail as well as the Pole Creek campsite where three men in their 30s or 40s (I think one of them was a teenager hanging in a hammock) were hanging out. On our way in we'd found a GPS hanging on a branch alongside the trail and debated taking it trying to identify the owner. We'd seen a car with geocaching stickers in the parking lot and thought perhaps it belonged to them. We asked the hikers who'd also mentioned they'd seen it and all decided hopefully the owners would return.
We left the day hikers and went back to the trail junction to figure out where we were going to go next. The bridge across Pole Creek had been wiped out by floods several years ago, though a piece of wood was still visible sticking out of the sand from where the bridge had once been. Chris got it in his head to cross the creek, which I wasn't thrilled about since I'd not brought a change of shoes. The water wasn't deep, 1-3 feet at most. Chris carried Forest across and then attempted to bolster the several logs that were sort-of used as a dry crossing already in the creek. It was mostly successful, though I almost lost my balance because I didn't have a hiking pole or a stick to help me across. I found one for the way back.
The trail turned here to the south paralleling Pole Creek and crossing several wetlands. The trail itself was still rather wet. I think we were tired of the water and Forest had been begging for a piece of candy so we stopped for a short break and turned around.
Crossing the creek and then stopping back at the Pole Creek campsite, which has a nice log book and a great set up for an easy overnight access (I wonder how busy it gets considering it is only a mile from the road), I thought we might come back and camp there sometime this spring. A Forest Service Road led east as an alternative to getting back to FM 149 and we opted to take that because it looked drier than the trail we'd come in on. Other than some standing water at the bottom of hills it was a much drier alternative back.
We had a short road walk to get back to the trailhead since we were just a bit north of where we'd gone into the forest. Just as we were getting back to the trailhead we noticed some hunters going in and then saw a hiker come out. Turns out it was the person who owned the GPS! He'd gotten all the way home and realized it was missing and had come out to get it! Good thing we hadn't picked it up.
In all it ended up being about 3.5 miles according to my Garmin.
A good afternoon hike.
We got Forest a cheap digital camera for him for Christmas so he could start taking photos. He hadn't really expressed a ton of interest in doing so but I take photos plenty and he knows we take photos with our phones, too, and I thought it would be a nice non-toy to get him. He's used it a handful of times and I took off the 'best' photos from the SD card and deleted all of the hands-covering-the-lens photos—hah! A few more photo lessons are needed, I think.
Here's a short selection of his photos so far. I thought it might be fun to do a series from time to time, mostly to see how it changes as he figures out how to use the thing!
I'm going to skip ahead a bit as I edit photos of our time at Davis Mountains State Park and go straight to our first hike on the Indian Lodge Trail on our first full day at the park. I'll be putting together other posts about our campsite, trips to the bird blinds, wildlife, and sunsets at the overlook on Skyline Drive separately.

Woodhouse's Scrub-Jay, Aphelocoma woodhouseii
We drove over to the trailhead and parked in the parking area behind the lodge. A scrubjay was perched in some trees nearby so we took the opportunity to get a few photos before we started. I had been calling these scrub jays 'western scrub jays' but apparently that has now been split into three distinct species, with two more California/west coast dominant and this one a little more broadly represented throughout the western US.
It was pretty cold that morning and we were layered up for the climb. During most of our stay it would be fairly cloudy or foggy in the morning but burn off by around 10am. We were about halfway up the mountain when the fog finally lifted in the valley.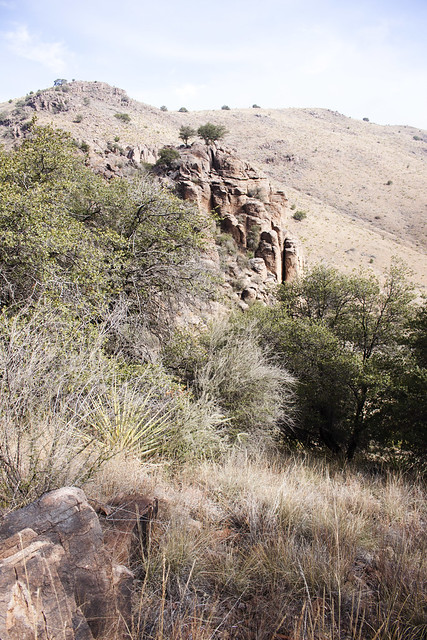 The hike up wasn't terribly strenuous but there were plenty of stops for lungs to acclimate to the ascent. I was also prone to stop just to look at my surroundings in a landscape we don't see often.

A yucca and tree cholla, Cylindropuntia imbricata

We made it to a rocky false summit and Forest wanted to climb on the rocks and have a quick snack. It was a good opportunity for water. Lately I've been taking my Hydroflask or Nalgene for water on hikes that aren't terribly long but I'm finding I really miss the easy water access from a Camelbak so I'm going to have to start remembering to use that more often.

Rainbow Grasshopper, Dactylotum bicolor

Nearing the top we encountered the fenceline and the other side on private property looked ripe for exploring. Oh, how I wish we had more park lands in Texas! This area reminded me a bit of our hike from Dog Canyon to Pine Top Campsite in Guadalupe National Park in 2011.

Woolly Locoweed, Astragalus mollissimus

A short side trail led us to the top of this particular mountain with stunning views all around, including a look at the McDonald Observatory about 15 miles west.

I think this is Silver Ponysfoot, Dichondra argentea

Havard's Century Plant, Agave havardiana
One thing I did love about this area were the amazing agaves! Just stuch stunning plants in the landscape!

Keesey Canyon and Tx 118, the state park is on both sides of the road here.

As it was nearing lunch time we were on a mission to get back down to the lodge where we would eat. The lodge serves food during certain days of the week and Sunday was the last day it would serve it during our stay. Chris had worked a lunch here into our meal plant for the week. Forest was starting to lag at this time and going downhill was proving to be trickier for him than going up in order to keep him from falling. Unfortunately not long after I took this photo I looked over to shoot the next photo and missed Forest falling into a piece of broken cactus that was in the trail. Tears ensued and a few minutes were spent pulling spines out of his body and clothing. Oh boy, then he begged to be carried which was just not a good idea heading downhill and without the backpack carrier (which we haven't used since, what, last spring??). It was rough going from there until the road.

Threadleaf Groundsel, Senecio flaccidus

We took one part of the Montezuma Quail Trail down to the road and walked back to the lodge and restaurant. In all I think it was around 2.5 miles. And we made it back for lunch, which was a buffet with a bit of a Thanksgiving theme. I was bummed that I missed the last bits of the peach cobbler, though!
We really loved the trail and if Forest hadn't of fallen the last quarter of the hike would have been a lot smoother. This hike was just prep for the bigger one we'd do the following day.