Our campsite, 41, was not wide but it was spaced so that there was quite a bit of room on either side of us that we weren't abutting the next campsites. I think the downside to this space was there was really only one spot for the tent which did happen to be closer to one of the campsites. That got frustrating one evening when we were in bed early (because dark and cold!) and the RV next to us decided to bring out a projector screen and watch a movie outside. Ooh boy. Some day I'm going to have a ranty post about campground quiet hours and how I think they should be earlier than they usually are (10pm for Texas State Parks) or at least with seasonal variations on the time.
Another good thing about this site is that we were on the tail-end of a dead end road so Forest could play a bit more in the road with his trike or his toys than we'd normally allow. And the closeness of the dry bed of Keesey Creek made a natural area for Forest to play. It was easy for us to sit at the picnic table and chill out and Forest could play in the creek. We'd call out for him to check in on occasion but he had a little bit of freedom to do that fun exploration kids do while camping. He's still a few years away from more of that but it was pleasant to be able to allow him to have a taste of that within the confines of us being able to keep close tabs on him.
I'd probably chose this site again if we had the chance. It wasn't a far walk from the bathroom, just down the creek and up a trail. Of course we didn't really scout out any of the other campsites either and now that TPWD had finally upgraded its reservation system (with growing pains of course!) to allow for exact site reservations at the time of booking your stay, it would be helpful in the future to make note of campsites we (you) liked for future reference!
There are two ways to get to the main Scenic Overlook at Davis Mountains State Park: by car via Skyline Drive or by foot via the Skyline Trail. The trail itself is about 2.6 miles one way with the main overlook, I'm estimating, around halfway or just a bit more than that. We went the easy route, via truck, every evening. Most evenings we went for sunset, though there was one day, possibly the first day, where we arrived earlier and had a lot of daylight left to scope out the scenery below.
The views were magnificent! The overlook was a popular place at sunset with many people bringing chairs and drinks to sit and relax as the sun went down. We'd stay for the sunset, sipping hot chocolate, and then pack up into the truck to drive the rest of the road to the east where it dead ended in order to look for wildlife coming out for the evening. We ended up spotting a fox one evening!
If you aren't inclined to hike the trails at the state park, make sure you get to the overlook!
As with the Limpia Creek Trail, this trail in the state park is on the north side of the highway. I should have mentioned in the post yesterday that you will have to get the combination to the lock to open the gate over there and check in and out of the trail at the park office when you go for your hike.
This trail is not on the trail map for the park but it is on the general facility map for the park and is about 1.25 miles round trip. It is very easy going, sloping gently down to Limpia Creek where it crosses/kind of follows the creek. We actually ended up losing the trail somewhere in the middle and began following the creek bed instead, which was fine because Chris wanted to move the game cam to another tree. We did not see an actual seep but we weren't looking closely either. Maybe it wasn't running?
If you are looking to dip your toes into the north side of the park but not wanting to hike up the mountain, this is a peaceful sojourn along the dry creek.
As per usual, snippets of interesting information is interspersed in the photos and the main write up is at the end!

Milkweed seeds blown in the wind.

Cottonwoods + Blue Sky

A caterpilllar in the tiger moth family—maybe a salt marsh moth?

Cactus wren (Campylorhynchus brunneicapillus) nest

Nylon Hedgehog Cactus, Echinocereus chloranthus

Havard's Century Plant, Agave havardiana

Texas Brown Tarantula, Aphonopelma hentzi — not alive! I'm equal parts sad and also glad it wasn't alive when we encountered it. Yes, still working on the giant spider phobia.

Little Nipple Cactus, Mammillaria meiacantha

Texas Mountain Laurel, Dermatophyllum (formerly Sophora) secundiflorum

Ornate Tree Lizard, Urosaurus ornatus

Tree Cholla, Cylindropuntia imbricata
On the south side of highway 118 where the main campground and park facilities reside, there is a robust trail system. However, the state park continues on the north side of the highway with the Limpia Creek trail leading up the mountain to the 5.6 mile Sheep Pen Canyon Loop where you can haul in all of your water and camp at a backcountry site. Also available up on top is the Limpia Creek Vista.
When we left from the trailhead I had thought the vista was much closer and that we might get to have a view once we arrived on top but I realized later after reviewing the map we would not be taking the extra 1.5 miles to the vista once we arrived on the mountain. As it was, our goal was to just arrive to the top of the mountain which was about 2.5 miles one way. My Garmin says we hiked about 5.5 miles that day, which accounted for some extra meandering as we wandered down Limpia Creek for Chris to set up a wildlife cam to see what we might catch walking down the creek.
The hike was going to be an ambitious one with Forest, despite our hike the previous day on the Indian Lodge Trail, but Forest seemed ready for that long of a hike. It was going to be the 'up a mountain' part that I wasn't sure he would take to.
We were off to a start, following or crossing Limpia Creek in sections. In the distance we could see people working their way down the mountain, having headed up earlier than our start, which wasn't terribly late, sometime mid-morning, but we weren't the early birds. Other than a series of switch backs about a half a mile or so in, the trail was well graded and not too steep. Forest was in good spirits but we also took plenty of breaks, both for snacks and just general resting.
There were gorgeous scenes everywhere I looked.
Eventually I think we all started getting antsy as the trail kept meandering towards a point and then turn back around to the back side of the mountain. To keep Forest motivated we would gently nudge him along by saying the top of the mountain was 'around the corner' or 'just over there'. That worked the first few times but eventually a melt-down started forming and finally we found a large rock to sit on not far from the trail junction with the Sheep Pen Canyon Loop. We'd worked up a sweat hiking up but in the shade of the trees our sweat chilled us quickly.
A few more small groups of people passed us as we ate our lunch and I wished Forest had had the stamina to continue on to the overlook. Hopefully next year or soon after he'll have trail legs for that. As it was, we were just proud of how good he had done on the way up.
Now we had to make our way back down!
The way down went a little easier and not long after we started hiking a man came down the trail and we let him pass us. For some reason Forest got it in his head that he wanted to give the man a high five and we had a brief conversation about that and kind of let it go until the man stopped and talked to a couple who were making their way up. We stopped to let them chat for a second and not to leap frog because we knew the man would just pass us once again a few minutes later, and in the mere few seconds of us waiting Forest walked up to the man and tried to give him a high five but entirely without context! He startled the man and Forest was kind of confused by the situation and thankfully the conversation between the man and the couple ended shortly after and the man kinda hauled off down the hill, I'm sure a little confused by a kid who didn't know what he was trying to do! We never saw the man again so we couldn't explain what Forest had been trying to do. Oh well!
We made it down the mountain sometime mid-afternoon with plenty of time to relax back at camp. I was so proud of Forest for having hiked that far and up the mountain! I may have been secretly planning a thru-hike of the JMT or something similar for us in the next few years while we hiked! I'd love to return to the trail again later and hike the loop trail and maybe have an overnight up on top. It was a gorgeous hike!
One afternoon during our stay at Davis Mountains State Park we took a short side trip over to the McDonald Observatory. Considering that we'd been seeing it from our hikes the last couple of days it appeared to be a good side trip. We had to head to the overlook at the state park one evening to get cell reception so we could look up the times and reservations for the solar viewing and tour and was lucky to find a time slot that was still available. Unfortunately the star party was not open so we did not get to enjoy that! If you don't have reservations you can drive over to the visitors center and have a look as well as drive over to the different observatories to have a general look at the outside and the view of the area from the top of the road. It's still inspiring to see if you didn't have the time for a tour!
The solar viewing took place in an auditorium at the visitors center and for the most part Forest wasn't too fidgety. A lot of what was talked about is escaping me now but we got a brief run-down on the history of the observatory, the different telescopes, and a bit about how the encroaching light from oil and gas exploration north of there, particularly north of I-10, is brightening the night sky in that region.
It was frigid up at the top where the observatories were located, the wind whipping through causing everyone to huddle against the building where they could. Thankfully we went inside but it was still chilly in there to keep the machines calibrated appropriately when they opened the top up at night.
If you are in the area it is worth a stop in for the tour!
Our campsite at Davis Mountains State Park was rather narrow and abutting Keesey Creek, which was dry. Because it was so near the campsite it made for an easy play area for Forest where he spent a lot of time playing with the mullein growing up and down the creek bed as well as stacking rocks and generally have a grand old time in imaginary play. The evening light down the creek bed was gorgeous every night and I wanted to play around with some freelensing as I don't do that very often. The results were all over the place but even the out of focus dream-like images I still loved.
The few photos of him in the field of grass were from the open area between the bathroom and education center, and the creek bed and we were winding our way back to camp after visiting the education center one late afternoon and the light was just right.
It's not easy to get him to post for photos these days but when I can manage it I take advantage of the moment!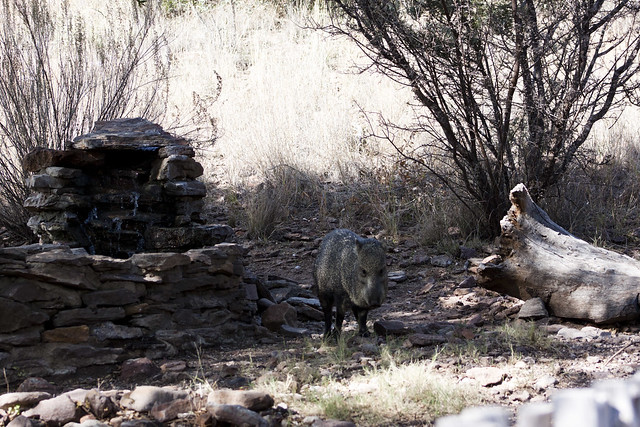 After our hike at the Indian Lodge Trail we stopped by the Emory Oak Wildlife Viewing Area, a beautiful building where birders and wildlife watchers can sit inside during more inclement weather and view through the windows, or walk around to a viewing area outside. We were poking around when we noticed javelina just off the trail. At first we noticed one and then another and soon it was an entire family group hiding under the trees. We watched from the trail for a few minutes and then backtracked back to the building as several of the adults wandered to the water source to drink. These family was not skittish as I'm sure they are used to people being around frequently. A few nights later Chris has a run-in with a couple at the campsite when we heard them trying to scavenge after dark. Anything the campers leave behind gets scarfed up!
The last time I'd seen javelina was back during spring break of 2000 when we took a trip to Big Bend National Park with some friends.
More Information on Javelina in Texas via TPWD
Let's not go into how many times I've tried to write 'collard' instead of 'collared' while writing this post or looking up information about these animals!

That wonderful warm weather we had earlier this week is now gone. I had an appointment in town yesterday morning so I watched the temperature rise to 75 at 10 am and then start dropping mere blocks before I arrived to work. When I got out of the car it was 67 and by the time I left at 5pm it was 51.

I was just getting used to wearing crop pants and t-shirts again! I know, in a few short weeks they will be back out for good until next October.

Let's go on a garden tour! I took these photos on Tuesday at lunch. This is a bluebonnet seedling, one of a couple I saw in the garden.

A rather ragged look at the garden here. I would love to get this fence fixed but I'm honestly not sure it will happen unless we (read: our neighbor's since it is their fence) put in a whole new one. It's now been like this for I think three years after a spring wind storm caused a branch of the elm tree above the garden to crash into the garden and crumple the fence. The problem is finding the square metal part at the top when most fences these days are now round—Chris has come up empty looking for that piece. At least when the passiflora covers the fence it makes it less unsightly.

I think my next task when I can find the time is to get the path cleaned up and get some new decomposed granite put down. And hopefully get the house painted in the next few months.

Rhododendron bud with lichen

I'm interested to see what this side looks like when it fills out this year. Since I moved the Argentine senna to where the almond verbena was (near the well) it will open up the area on the right where the banana trees where. I'd like to move a fern that is underneath the fig tree where Chris waters his orchids and bromeliads because while I know most ferns enjoy a lot of water, this one has seriously declined with the amount of water it receives from runoff from above. It has put on new growth this winter because it hasn't received that much water while the orchids and bromeliads have been in the man-cave and so I think moving it to the other side where the senna was would be a wise move.

The brugmansia that didn't die back! I thought it had died back after the freeze in November but when it warmed up in December it put on new growth throughout the plant and well, here it is! I covered it a few weeks ago when we had another light freeze and just a few bits were burned but otherwise it looks healthy!

The edible garden is slosh pit all around. It is impossible to use the wheelbarrow at the moment as it ruts the ground just outside the fence. The wet winter paired with whatever is going on with the drain pipe that drains the front yard and runs under our neighbor's yard to the easement next to his house, well it is really causing a problem. The groundwater is staying very high for this reason.
A few weeks ago I finally pulled up the pennywort that was acting as a groundcover in one of the perimeter beds near the strawberries. I'd been leaving it there because we didn't have mulch to put down and I'd rather have it growing than bare ground but since I had some mulch I finally pulled it up. It was a bit pleasing to pull it out in mat-like chunks but underneath was just one big mud pit and the groundwater was near the surface. In hindsight we've both thought that maybe we should have either brought in more dirt than we did to raise that area up even more way-back-when or sited the garden elsewhere, which there aren't really any other great spots to chose from.

Because it is so wet out there I haven't had the desire to do much weeding or upkeep out there. I get out a couple of times a week to pick greens for salads and check on things but I'm not doing a lot. More spring ephemeral weeds are popping up now so I'll need to get back on top of that soon.

Seeing the calendula bloom was a delight out there and this bee gave me some entertainment for a few moments.

Cilantro blossoms

Japanese hawkweed, Youngia japonica, a prolific weed around here. I usually pull it but sometimes I leave it because Forest loves to pick its flowers.

Lyre-leaf salvia, Salvia lyrata, sending out flower spikes.

A nearly equal mix of purposefully planted and grown by Mother Nature in this bed.

I am really enjoying the Morris Heading Collards! They are extremely mild and not so thick that when you add them to salads they aren't chewy. Daikon radishes are in the back.

Chard—I swear it always takes the longest time to germinate and get established but come spring it is there waiting for you to harvest.

Our lone self-sown borage from last year's crops.

The peas seem to be languishing a bit. I feel like they are usually larger by this time. I guess I need to sift through the archives and compare.

And finally some better photos of the second pipevine swallowtail from Tuesday.

Pipevine # 1

Pipevine # 2
Spring is, well, I think spring is starting here in southeast Texas. We started seeing signs of it the last two weeks but it is becoming even more prevalent over the last week. Over the weekend we went up to DFW and I didn't even think that I should have left the butterfly cage open in case a pipevine eclosed. It had been since sometime in December when I had the odd one eclose and if I recall correctly, I had another one in December considering the number of open chrysalides I have.
We arrived home late on Sunday evening and it didn't occur to me to look out and see if a butterfly was in the cage so on Monday morning when I saw a butterfly hanging from the top of the cage I knew this one had been out for at least a day. Oops! I let it out at that morning before work and knew that with the stretch of 70+ degree days we would be having that the rest would try to make their appearance soon. And one did yesterday at lunch. It was still relatively fresh and drying its wings. I let it crawl onto my finger and then put it on the fig tree (which is putting on leaf buds!) for it to finish drying and warming in the 70* sunshine.
My last wildlife for the day is a roadkill beaver that I came across as I was leaving the neighborhood the other day. The beavers seem to fluctuate in the pond seasonally or yearly and they have returned recently. One has been trying to build a den along our shoreline and after some debating, Chris decided to let it continue. Thankfully it found a better place than it originally wanted to set up shop. So when I saw the dead beaver I worried it was our little friend. I'm still sad that someone hit this beaver because it was in an area that it could have easily been avoided. Incredibly frustrating.
I'm almost done editing photos from the Davis Mountains—I could have been finished a month ago but I've been lazy—and so I'll be returning to writing about that soon. I also walked around the yard yesterday to take photos of the garden so I'll be having a garden update as well. It's a muddy, sloppy mess out near the edible garden—ugh.
Happy wildlife Wednesday—what's going on in your neck of the woods?
Thinking:
On the politics front:
+An Open Letter to Howard Schultz by Jon Lovett of Crooked Media/Pod Save America/Lovett or Leave It. Unless you are a third-party (and not insane) conservative, stay out of the 2020 race. We don't need you jacking up the election.

+Any time Ted Cruz gets taken down a notch is a good day in my book. From what I understand Senator Bennett is usually mild-mannered so him going off on Ted is pretty spectacular!
+I'm glad to see so many women announcing exploratory runs for president but the only two that I see so far having a chance are Senator's Warren and Harris. And to be honest, I think Warren serves best in the Senate and I'm increasingly interested in Kamala Harris. However, I'm holding out for a Biden/Beto ticket. I'm interested to see where we are in a few months with more people joining in. I hope Kirsten Gillibrand bows out soon, though.
Other:

Loving the new Wild East campaign by the Appalachian Trail Conservancy! We also just received the latest Journeys magazine for ATC members and it has a lot of great information on the campaign. I'm glad to see it because sometimes it feels like wild places that aren't "out west" get left out of the conversation.

"World Wildlife Fund Mexico in collaboration with CONANP and the Monarch Butterfly Biosphere Reserve (MBBR) announced the total forest area occupied by overwintering monarch colonies today. Fourteen (14) colonies were located this winter season with a total area of 6.05 hectares, a 144% increase from the previous season."–the monarch butterfly world is very excited about this news! Monarch season is around the corner for us!
Gardening:
Other than starting tomato seeds earlier in the month, I've not been doing a whole lot. I had Chris get mulch twice this month so I could finish mulching the flower garden and we now have some left over for the edible garden but because of the clogged pipe issue in the front yard and a lot of rain recently, it has stayed super soggy out there. Just today at lunch I moved what was left in the back of his truck to a tarp just outside of the edible garden and we will likely move it by buckets next week because it is so soggy at the entrance that moving it with a wheelbarrow is causing rutting.
The harvest in the garden is coming along with a lot of greens right now. The bok choy is mostly bolted but everything else is thriving. I'm concerned about the chives, though, I think they may finally die out from wet feet after putting up with it for so many years. We'll see. Maybe they will come back like they usually do. Chris sowed sugar snap peas, onions, and lettuce earlier in the month/end of December and we have one bed left open that I'm not sure if it will get planted with a cool season crop or end up with tomatoes. Considering that it is February tomorrow and our February is looking to be jam packed, my bet is on tomatoes.
The flower garden looks good at the moment despite dormancy for most everything. I've moved a couple of plants around, particularly the Argentine senna (Senna corymbosa) which we had placed in its original spot when other plants weren't in the way and after some discussion and grumpiness between us with differing opinions, I moved it to the place where the almond verbena has been. It should come back, I've scratched a bit of the bark and it was still green, so crossing fingers, it will be a good fit for the location.
I also moved the black and blue salvia (Salvia guaranitica) in 'my' bed from the edge of the bed to the back. We had three plants and I separated them out and now they will line along the back of the bed—probably to compete eventually with the passionvine that will swallow it whole sometime in August. I have a bag of stratifying seeds in the fridge I need to sow at some point.
Loving:
+This mural the Sunshine State Seekers painted of a section of the Florida Trail in their house!
+The Botanical Hiker on the Florida Trail
+Boundless Roamad and his blind pup Katana on the Florida Trail
Reading:
I just gave my book report the other day but I'm currently reading Thirst: 2600 Miles to Home by Heather 'Anish' Anderson, Alone on the Wall by Alex Honnold, and How to Talk so Little Kids Will Listen by Joanna Faber and Julie King.
The first I just received this week after ordering it when Anish posted she was selling signed copies of her new book about her FKT of the PCT in 2013. I have a super strong suspicion that she is going to attempt an FKT on the FT this year—this is just my hunch based on a few cryptic things she's posted, her current location being in Florida, and the fact that the return address on the book I received was from a well-known hiker friend of hers. Like I said, just a hunch, I could be wrong, but I'd be happy to see it.
The second is an audio book about Honnold's free solo climbing experiences and a bit of a history of the sport of climbing. I'm only about 14% into the audiobook but am enjoying it. If you aren't familiar with Honnold he is the first person to free solo El Capitan in Yosemite. There's a movie about it that I'd love to see at some point.
And the final is a book I've heard talked a lot about in parenting circles and I finally got a copy of it from the library. I may need to buy it or scan certain sections so I can remember some key points. 4 year olds are hard, y'all.
Making:
Not really anything. I bought a bench for my keyboard so I could start playing and work on my 39 Things for 2019 list and I've been somewhat diligent about trying to play. I need to remember to sit down there more.
Watching & Listening:
I have done a lot of watching now that tv shows are back on. The Big Bang Theory, This is Us, and Grey's Anatomy are the standard fare with Outlander just finishing up it's 4th season (way too short considering how much content was cut or changed from the book), and Victoria just started up again. I just saw a trailer the other day for The Spanish Princess about Catherine of Aragon, Henry VIII's first wife. It's based on the Phillipa Gregory novel and I'm very intrigued by it. Not sure when the debut date is.
A few movies I've enjoyed on Netflix lately: Blue Jay, Our Souls at Night, Before We Go. I've also gotten into Grace and Frankie over the last week after several people told me how good it was and they were right!
I've also watched two random Downton Abbey episodes because they were recorded on our DVR and it reminded me how good that show was. I may have to break out my DVDs for a rewatch at some point.
Podcast episodes that I've loved lately aren't coming to mind so I'll leave it at this!
What's up with you?