We got Forest a cheap digital camera for him for Christmas so he could start taking photos. He hadn't really expressed a ton of interest in doing so but I take photos plenty and he knows we take photos with our phones, too, and I thought it would be a nice non-toy to get him. He's used it a handful of times and I took off the 'best' photos from the SD card and deleted all of the hands-covering-the-lens photos—hah! A few more photo lessons are needed, I think.
Here's a short selection of his photos so far. I thought it might be fun to do a series from time to time, mostly to see how it changes as he figures out how to use the thing!
I'm going to skip ahead a bit as I edit photos of our time at Davis Mountains State Park and go straight to our first hike on the Indian Lodge Trail on our first full day at the park. I'll be putting together other posts about our campsite, trips to the bird blinds, wildlife, and sunsets at the overlook on Skyline Drive separately.

Woodhouse's Scrub-Jay, Aphelocoma woodhouseii
We drove over to the trailhead and parked in the parking area behind the lodge. A scrubjay was perched in some trees nearby so we took the opportunity to get a few photos before we started. I had been calling these scrub jays 'western scrub jays' but apparently that has now been split into three distinct species, with two more California/west coast dominant and this one a little more broadly represented throughout the western US.
It was pretty cold that morning and we were layered up for the climb. During most of our stay it would be fairly cloudy or foggy in the morning but burn off by around 10am. We were about halfway up the mountain when the fog finally lifted in the valley.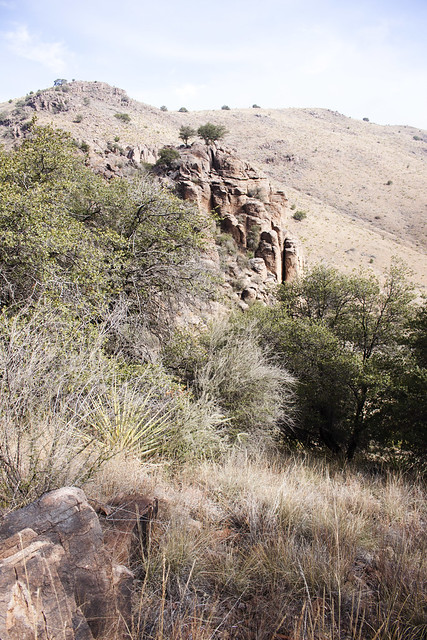 The hike up wasn't terribly strenuous but there were plenty of stops for lungs to acclimate to the ascent. I was also prone to stop just to look at my surroundings in a landscape we don't see often.

A yucca and tree cholla, Cylindropuntia imbricata

We made it to a rocky false summit and Forest wanted to climb on the rocks and have a quick snack. It was a good opportunity for water. Lately I've been taking my Hydroflask or Nalgene for water on hikes that aren't terribly long but I'm finding I really miss the easy water access from a Camelbak so I'm going to have to start remembering to use that more often.

Rainbow Grasshopper, Dactylotum bicolor

Nearing the top we encountered the fenceline and the other side on private property looked ripe for exploring. Oh, how I wish we had more park lands in Texas! This area reminded me a bit of our hike from Dog Canyon to Pine Top Campsite in Guadalupe National Park in 2011.

Woolly Locoweed, Astragalus mollissimus

A short side trail led us to the top of this particular mountain with stunning views all around, including a look at the McDonald Observatory about 15 miles west.

I think this is Silver Ponysfoot, Dichondra argentea

Havard's Century Plant, Agave havardiana
One thing I did love about this area were the amazing agaves! Just stuch stunning plants in the landscape!

Keesey Canyon and Tx 118, the state park is on both sides of the road here.

As it was nearing lunch time we were on a mission to get back down to the lodge where we would eat. The lodge serves food during certain days of the week and Sunday was the last day it would serve it during our stay. Chris had worked a lunch here into our meal plant for the week. Forest was starting to lag at this time and going downhill was proving to be trickier for him than going up in order to keep him from falling. Unfortunately not long after I took this photo I looked over to shoot the next photo and missed Forest falling into a piece of broken cactus that was in the trail. Tears ensued and a few minutes were spent pulling spines out of his body and clothing. Oh boy, then he begged to be carried which was just not a good idea heading downhill and without the backpack carrier (which we haven't used since, what, last spring??). It was rough going from there until the road.

Threadleaf Groundsel, Senecio flaccidus

We took one part of the Montezuma Quail Trail down to the road and walked back to the lodge and restaurant. In all I think it was around 2.5 miles. And we made it back for lunch, which was a buffet with a bit of a Thanksgiving theme. I was bummed that I missed the last bits of the peach cobbler, though!
We really loved the trail and if Forest hadn't of fallen the last quarter of the hike would have been a lot smoother. This hike was just prep for the bigger one we'd do the following day.

I put a guess up on iNaturalist and my guess was wrong—I figured it would be—but someone with more insect knowledge suggested Darkling Beetles, Family Tenebrionidae. Maybe I'll investigate further soon.

I'm fairly certain this is Eaton's Lipfern, Myriopteris rufa.

Nylon Hedgehog Cactus, Echinocereus chloranthus

Echinocereus coccineus ssp. transpecosensis

Star Cloak Fern, Notholaena standleyi

Mitre Peak–We came to Fort Davis from Alpine via Tx 118 and this peak was a stunner from the road as we drove by and I noticed a sign for a county park (I believe) as we passed by. I had wished we'd had time to stop in and thought we might make a trek back but we didn't have the time. It was easily an identifying geographic feature in the distance as we hiked around the next several days.

Tree Cholla, Cylindropuntia imbricata

Star Cloak Fern, Notholaena standleyi

Little Nipple Cactus, Mammillaria meiacantha

Echinocereus coccineus ssp. transpecosensis

Smooth Sotol, Dasylirion leiophyllum

Threadleaf Groundsel, Senecio flaccidus
So, identifying the plants on our hike wasn't as terrible as I was imagining. And that's thanks to iNaturalist. Without books for that region or a decent online source it surely wouldn't have been as easy and would have been much more time consuming. It's actually become a bit fun to try to figure things out more than I have in the past and I usually wouldn't have bothered for an area I wasn't familiar with.
I started with narrowing down the plant, say 'Ferns' and then selecting the county, Jeff Davis, and seeing what had already been identified. That helped greatly and I was able to narrow some plants down to exact species and others I couldn't decide between species so I left it as a genus and then someone, multiple someones on a few of them, came through and put the species in. You gotta love citizen science and other fellow nerdy people who are willing to help identify things! On the Asters I originally put Asteraceae and happened to figure out the threadleaf groundsel by clicking around on entries around the area that we hiked, in particular the area where I'd found the plant, and there it was! The same happened with the ephedra but someone else listed a particular species and I didn't think it necessarily was that species so I left it at genus—that sufficed for me.
As for the hike, it was a great! For some reason I hadn't really thought out my attire that morning before we left Kerrville, and was a bit concerned to be hiking in jeans if we went any kind of distance, but they ended up being fine. We oohed and ahhed at the vistas, the plants, all of the scenery was so new and interesting to us that we were constantly curious about everything. The hike wasn't strenuous and as you can see Forest was having quite a ball climbing on rocks and heading down the trail. He was in his element!
The woman running the gift shop had said we might run into a herd of Aoudad sheep on the back side of the mountain but no such encounter occurred. A few other people were hiking because it was the weekend but it wasn't crowded by any means. I kind of wonder how many people visiting Fort Davis and the state park know this little park exists. I'd love to return some day to hike the other areas and to explore the rest of the botanic garden.
New Mexico Agave, Agave neomexicana

Now that's a deer/antelope/sheep fence!

Cowpen daisy, Verbesina encelioides

Queen butterfly

Tree cholla, Opuntia imbricata

Beaked yucca, Yucca thompsoniana
Finally I'm starting these west Texas posts! It was after lunch when we arrived close to Fort Davis and the Chihuahuan Desert Research Institute and Botanical Gardens. Chris had found the place in his scouting for other things do in the region and the admission for that day was half price, I believe. Just a day or two before there had been a presentation and book signing with an author on plants for the region and Chris was bummed to have missed it. That didn't stop us, well, especially me, from oogling the excellent selection of books on their gift shop shelves.
And as the title suggests, this is really a peek into the botanic gardens because that's about all we did. We spent the majority of our time hiking on the Clayton's Overlook Trail. Both Chris and I were intrigued about hiking the Modesta Canyon Trail which had a spring somewhere in the middle but we were really pressed for time to hike, see the botanic garden, and then get to the state park before it got dark so we could set up camp and cook dinner. So, we chose the shorter Clayton's Overlook Trail and then dipped into the botanic garden for a few minutes. We could have easily meandered through there for the rest of the afternoon, looking at the interesting desert specimens that we weren't familiar with. Yay for plant labels! They helped me figure out a few things I'd seen during our hike.
Next up will be a post about the hike and then we'll switch over to Davis Mountains State Park….just need to work on more photos!
As I mentioned a few posts back in my 2018 Year in Review, I thought I might try to write out 39 Goals or Wishes to Complete for 2019. I'll be 39 in July and so I thought I might write up a list of things I'd like to do this year instead of a random word that I seem to continue to forget sometime mid-way through the year.
I may not hit all of these but I do find when I see what I have listed that I tend to try to make things happen. At least that's what I did when I had the 28 list, or when I write out my weekly to-do lists.
Here goes!
Resubmit book proposals to publishers and find agents to submit to as well. Deadline: March/April 2019.
Camp at one of the East Texas National Forests
Three 1+ night backpacking trips
Complete 5 pieces of art
Paddle down Village Creek
Go back to Enchanted Rock to camp

ohmygah-this-is-so-hard…trying to come up with realistic but also challenging myself type goals…

Read 20 of the books on my bookshelf that I already have—that have been sitting there waiting for me to read them.
Complete two more sections of the Lone Star Hiking Trail
Master(-ish) the pistol squat
Plan at least one more girl's weekend trip with my friends Michelle and Stephanie
Plan a second girl's weekend with my mom and SIL
Weekend trip to the Big Thicket—it's been too long!
Visit the Watson Rare Native Plant Preserve—same as above!
Backpack on the Turkey Creek Trail in BTNP
Host a plant/gardener swap for Houston gardeners
Take Forest to the Congress Avenue bat bridge in Austin.
See Attwater Prairie Chickens at the Attwater Prairie Chicken NWR
Find the Bartonia texana (Texas screwstem)
Take Forest to the San Bernard Oak
Find 7 historical trees in our Famous Trees of Texas book.
Hike at Lake Houston Wilderness Park
Hike on the new sections of the Spring Creek Greenway in Harris County.
See the whooping cranes at Aransas NWR
Go for a spring wildflower drive and photo excursion
Find a wild Southern Lady's Slipper Orchid, Cypripedium kentuckiense
Meditate consistently for 5 min a day
Finally learn to use the SLR camera that was my grandfather's and that I bought film for a few years ago
Finally make mead with the kit Chris got me for Christmas a few years ago
Learn to use my Instant Pot
Visit the Sam Houston Statue (instead of driving by it on I-45!)
Commit to morning pages 3xs a week
One 6-10 mile rollerblade once a month to go with regular rollerblading and cardio that I do.
Start a yard flora and fauna species list
Update and revise our photography website — maybe actually do something with this?
Brainstorm and outline a potential fiction book
Practice my piano once a week for 30 minutes (I got a new keyboard a year and a half ago and haven't really played on it much!)
Make sourdough bread from scratch
Figure out something to do with all of my grandmother's crocheted doilies—framing, blanket, some kind of art???
Write letters or cards regularly to my friends.

Oh boy was the last 10-15 tough! I don't know about doing this again next year—hah! I wanted to throw some easy stuff in there and then of course some cop out type items but I refrained and tried to do things I knew could be accomplished if I at least tried. We may not find a southern lady's slipper or the Texas screwstem but it's worth a try. Same as the other stuff. But, it's a start!

Alright, 2019—let's do this!




Having an extended weekend has meant a little more time to get a lot of different things done as well as leaving plenty of room for laziness. I've dabbled around the garden the last few days, more than I've done in the last month or so. And that meant taking time to get a few photos in…so here goes a photo tour of our late December garden.


The swamp chestnut oaks (Q. michauxii) are starting to develop good bark now that they have been in the ground for over five years.


In the edible garden, we're in the transition period between sowing and harvesting with many greens nearly ready to begin harvesting on a regular basis.


A leftover echinacea flower.


My two over-summered beets! They are now putting on greens again and I'm hoping that since beets are biennial that I will get some seeds this year.


I only had two kohlrabi germinate and which is probably ok in the end because we really don't use much of it in the kitchen.

The greens that are furthest along are the ones I sowed in the blackberry bed back at the end of September. Kale and bok choy make up most of it in addition to self sown cilantro.

Other than the cooler fall and early freeze, winter has been rather mild and on par with average winter events. Which means bok choy is up for bolting already!


A look down at the kale, spinach, mustard spinach, and another round of bok choy.


Morris heading collards and daikon radishes. I'll thin the collards one more time around New Years and they should do well through spring. I've not tried that variety before so I'll be curious to see how well they do compared to Champion or Georgia.


Chris got onions planted about a week ago or so.


It was a really good luffa year. The only bad part was that all of them are 20+' up in the sweetgum tree! One was low enough to pick and another fell recently but the rest, I'm going to have to wait for.


Moving to the flower garden, it is mostly quiet out there right now.


A lot of the tender tropicals got nipped back by the freeze so much of it has gone dormant though some like this Justicia spicigera was unfazed and other have begun resprouting already since December has been mild.


Prunella seedlings.


I hacked down the banana trees which are usually in the front left. They will resprout in the spring and we will probably be moving at least one clump around because they had migrated too far to the back.


I also took out the almond verbena which had graduated into a monstrosity that we didn't imagine when we planted it. I believe we were told it would be a more shrub-like and then it grew tree-like and a freeze knocked it back to where it started regrowing about 3′ up and sending stem boles out everywhere—it was a mess.


Here it is in happier days. Now with that space open there will be some wiggle room to plant something different. I have ideas!


The gingers are looking nice but I saw deer browse on some of them. Usually the deer leave them alone. I wish we could have a one day, limited tag bow season in the neighborhood. Too many deer at the moment.


Last week I noticed our white brugmansia that is near our backdoor had sent out new leaves from a good portion of the plant. It hadn't been killed to the ground in the freeze! It always resprouts from the roots every year. I'll be interested to see if it makes it through the rest of winter like this.


Some fall maroon colors from the oakleaf hydrangea! I'm glad I dug it up and saved it as it was on its last legs in the flower bed. I think I'm going to move it to a flower bed at the office and see how it does there. Less deer pressure in that area.


The Thanksgiving/Christmas cactus combo is putting on a show. Chris brought the plants out from the mancave for some light and water since the weather has been pleasant.


And I found a rosemary blooming!


Lastly, there was some shenanigans with boxes on the porch over the weekend, too!

These last few weeks have had me itching for February weekends and preparing for spring. It's around the corner!




Well, 2018 is closing out and I honestly can't believe it. We're inching closer to the end of the decade and it feels like yesterday we were at the beginning of the decade. And as per usual it is time to start reflecting on the previous year and thinking about the next.

First, I think I should review my word for the year, which was apparently strong and of course I forgot about until I went to look it up. I think I tried to be strong in some ways. I've been fairly consistent with workouts despite not losing weight (lots of thoughts on that for another time) and have definitely put on muscle since I began focusing on lifting weights again. I feel strong in that aspect. In other areas I still need to work on those.

As for a word for 2019, I don't think I'm going to do one this year. I have a lot of specific goals I want to achieve and maybe that will be in a separate post. I also like the idea of putting together a list of 39 things I want to do this year (since I'll be turning 39 in July!) as I did when I was 28. Oh boy, looking back at that list made me realize how ambitious I was but also how much free time I had!

Anyway, to review this year:

Best Camping Trip

Hands down our West Texas camping trip! I'm finally processing photos from the trip so expect more posts about that in the coming weeks!

Best in the Garden
Honestly, the garden wasn't my favorite this year. There were good parts—let's go find a few:


Red admiral caterpillars, finally!


A fairly decent onion harvest in the spring.


A strong spring monarch season!


From this vantage point the edible garden looked really nice in August!


Massive okra!!

I feel like we'll get our groove back for 2019 in the garden!

Best Book(s): My reading fell of precipitously the last quarter of the year. I've not been in the mood and I think having to read some of the NetGalley books put a damper in my mood. I sort of felt like I should finish them even if I'm not loving them so I may be pulling back on NetGalley and not being as heavy in the requests for previews next year.

I'd say my favorite books this year have been:
+North: Finding My Way While Running the Appalachian Trail by Scott Jurek
+Cathedral of the Wild: An African Journey Home by Boyd Varty
+The Romanov Empress by CW Gortner.
I'm also not quite finished with Walking with Spring by Earl Shaffer but it is on my list, too.

Best Podcast(s)
I subscribe to a ton of podcasts but I don't necessarily listen to each and every episode of all of them, though some I do. I'm also one who doesn't follow all of the famous podcasts that are produced by public radio or major podcast networks—yes I listen to some of them from time to time but I much prefer an indie podcast setup.

A few favorites are:
+Friendlier: two friends sit down and chat on a certain theme every other week as well as a few other items such as books and life lately. It's just a cozy listen and makes you feel like you are friends with them!
+Nova Scotia Kitchens: Sherrie goes to the kitchens of friends and acquaintances in her home province of Nova Scotia and records episodes of them cooking a favorite recipe. I love it because it feels like you are there in the kitchen with them, having a drink and making up something good to eat. Sherrie was on my podcast earlier this year.
+The 2180: A podcast of 70 stories from the Appalachian Trail to commemorate the 70th anniversary of Earl Shaffer's walk on the AT.
+Girls Gone WOD: This is a Crossfit adjacent podcast that I really started listening to more this year. I've been enjoying the host only shows as well as their guests which range from Crossfit atheletes to other people in the fitness and wellness industry. You don't have to do Crossfit to find value in the show.
+Pod Save America: I tuned into this quite frequently this year to get some details into the weekly political issues.

Best Music:
I have not listened to a lot of new music this year, though a few things stand out.

I have really been enjoying the soundtrack to the movie Dumplin'. It's all Dolly and I'm here for it!


Always a Florence + The Machine fan, I love the new album, too.


Best Movies & TV:
I haven't kept tabs on the movies I've watched but maybe I can dredge up a few.

Mostly recently I watched Dumplin' on Netflix and I really loved it. I highly recommend it! Ok, so I can dredge up one and that's recent! I guess I'm not watching a ton of movies at the moment. TV, well, that's my typical shows I watch seasonally. I think Better Call Saul was probably the best show I've watched this year but I've always been enjoying The Chilling Adventures of Sabrina which is a reboot/revamp of Sabrina the Teenage Witch sans cheesy 90s comedy. Decidedly darker and I've been loving it.

Best Trips:

+High Island Birding and Marc and Eliana Visit: Miss those two so much! Not enough time to spend with them on their brief visit through the region.
+Paddling Juniper Run when we were in Florida. So glad we got to do that again and take Forest, even if he slept half the trip!

+
In retrospect, Disney was fun as well but in the moment it was quite chaotic and hard. I've never published a write-up because it was exhausting and I had to wrap my mind around everything. If we were ever to do it again I'd slot in rides for early in the day and later in the evening, after dinner, and spend more downtime at the hotel and pools in the Disney complex. Being at a park the entire day without a break was the hardest, I think, and thankfully there were only a couple of days where this was the case but those were some hard, hard days. As we were with extended family we had to go with the flow of everyone else, too, though we did do our own thing at times as well. I definitely did not understand how many families I saw with 2-3 kids, all under 5-6 years old—how and why were they doing that?? With the amount of standing in line you had to do unless you had a Fastpass, it didn't seem worth it for all of the kid meltdowns. But, I know there are Disney addicts out there so, to each their own! A few months after Disney, Forest saw a commercial on tv for Universal Studios and proclaimed he really wanted to go there! Yeah, maybe when you are 10, kid!

Well, that's a wrap for my year in review! I think I'll work on 2019 goals and soon I'll be sharing posts from west Texas which I'm really excited to share!




In mid-October Chris mentioned that he wanted to go look for a particular rare plant, Bartonia texana, aka Texas screwstem. It is frequently on the list of protected plants we survey for but here's the kicker, the photos available for this plant are few and not many people see this plant. It also doesn't have visible vegetation on it throughout most of the year, sending a flower spike up only when it is time to bloom. Luckily, it also fits a particular habitat niche so you would only come across it in certain locations, and these locations aren't places most people are going to be trekking to. So, it really has a lot working for it in not being seen!

Now, Chris gets to bushwhack for work on occasion but I haven't done any good bushwhacking or off-trail hiking since before Forest was born. When he mentioned he wanted to go see if he could find this plant I really wanted to come along but that meant Forest would have to tag along. And that could be tricky. We managed to make it sound like an adventure and thankfully he really only complained as we were heading back to the car because he was tired. Chris knew of a certain location so we headed out to a remote section of Sam Houston National Forest, turning down a dirt Forest Service road and pulled over to park. In all it turned out to be about a 3 mile hike round trip because of all of the weaving in and around habitats and trees. On the way in there was a wide ATV track that dwindled and then turned into a narrow hunter's hiking trail before it fizzled and we were left to finding our own route.

In all, it was a great hike! We did not find what we were looking for and will try to return next year to search a little more. The trip reminded me of all of the hours we spent traipsing around Florida looking for plants, geocaches, or really, anything! We need more of this again, though it was a lot easier to do when there wasn't the prospects of owning a house and having a kid!

Below is a bit of what we saw and I'll add tidbits of information under certain items.


Raspberry Wave, Leptostales laevitaria
Forest pointed this out to me right near the car. I believe it is the same moth that I've noticed around our yard but it quite shy and will always flit under a leaf and is camera shy. Very cool to see it with open wings!


Cladonia sp., deer moss, actually a lichen.


Elegant Gayfeather, Liatris elegans


Along the narrow hunter's trail we found several shredded balloons. It's so frustrating to find balloons out in the middle of the woods.


We often stop at holes in the ground to inspect for wildlife and try to teach Forest that differet animals can make a hole their home.


Atta texana, leaf cutter ants. These leaf cutter ants are fungus farmers, cutting down the plant material as a substrate for the fungus they eat to grow on!


Netted Chain Fern, Woodwardia areolata


Indian Pipe, Monotropa uniflora


Veilwort, Pallavicinia lyellii


Beefsteak Plant, Perilla frutescens. I'm coming to realize how widespread this plant is and potentially problematic it could be as a non-native plant. That said, it is edible, so eat the weeds!


Sharpwing Monkeyflower, Mimulus alatus


Spotted Apatelodes Moth, Apatelodes torrefacta


Hypercompe sp., a tiger moth species. I should have taken a few more photos to identify better.


Sweet Bugleweed, Lycopus virginicus


Sarsaparilla Vine, Smilax pumila


I'm torn on this one, I think it is either a young maidenhair fern or some kind of spleenwort fern.


Strobilurus conigenoides On our way out I noticed all of these fungi growing only on decaying magnolia seed pods. I figured they were a specialist but my google searches revealed nothing. Luckily a mycologist on INaturalist identified it and well, my suspicions were correct! The rest of the species in that genus are specialists on other conifer cones!


Southern Arrowwood, Viburnum dentatum

Thanks for making it through this long post! I wasn't in the mood to break it up. Next up, tackling the many photos from the Davis Mountains and some year-end wrap-up posts.




I took that top photo four years ago yesterday. I remember taking it, too, as I was folding laundry one evening and Forest was being his chunkalunk self! It must have been a warmer December day because of the diaper only outfit, which is how he spent a lot of those first three to six months, hanging out in just a diaper!

Then on Wednesday night we went to my studio to hang out for a bit and for some reason he finally noticed the baby chair sitting there, where it's been for well over a year waiting for me to sell it or donate it. (It's going to Goodwill soon!) He dragged it out and I almost told him not to sit in it for fear he would break it but I let him go anyway. He got up too quickly after his test sit but I got him to lay back down so I could snap a photo since I knew I had the first photo already. I didn't realize how close to date the photos would be though until I dug the first photo out of my Flickr archives.

From rolly poly baby to whip-smart and expert little kid negotiator in just four years! Time flies.




The final post for Mission Tejas State Park! A few little morsels between photos but a write-up at the end!


Indigo Milk Cap, Lactarius indigo: I was so excited to see this! The state park had shared a photo on social media a few days prior to our hike of this cool mushroom and I had seen someone else share their find in Ohio, so I put it on my bucket list to see one of these. We kept our eyes peeled for them but it was Chris who found them in an early morning hike before Forest and I got out of the tent. We went back later to find them and I looked underneath on the gills but didn't really see any blue 'ink' oozing so I wasn't 100% certain that's what they were until I compared photos online. A pretty great find—thanks Chris!


Flowering Spurge, Euphorbia corollata

On Sunday morning before we left the state park we opted for a long hike between breakfast and packing up for lunch. Piecing together the Cemetery Hill Trail, Lightning Trail, Olen Matchett Trail, Fire Tower Trail, and Karl Lovett Trail, we made a giant loop from our campsite back to our campsite. I can't recall but I believe it was around—errr, hey, I have a handy dandy Garmin watch and so I checked my app for that day and it looks like that hike was only 1.5 miles. It certainly felt longer with some of the steep hills!

The morning was gorgeous, a perfect early fall morning in east Texas with sunlight pouring through the pine canopy and punctuating the understory with golden glow. The terrain was quite rolling, particularly along the Lightning and Olen Matchett trails, with steep ravines that begged to be explored. I think Forest was rather happy, too, as he stopped along the trail and spread his arms wide for a few moments to pretend to be a bird. A downed tree along the trail was no match for him and was a perfect play opportunity for him to crawl under!

I'm now quite enamored with the blue sage, especially after growing it in the garden this year. I ordered more seeds so I'm hoping to have even more this coming year. The little euphorbia find was a nice surprise as I almost walked past it but decided to stop and take its photo. At the time I didn't know what it was but upon reviewing the photos and seeing the seed pods I knew it was a euphorbia and after that it was fairly easy to identify to species.

After climbing the steep Fire Tower Trail we arrived to view the remnants of the fire tower for a few moments. Forest didn't quite understand what it used to be so we showed him the display materials at the site and told him how they used to work. Maybe some day he'll see a real one! There's not too many left in east Texas.

After that it was an easy sloped downhill back to the campsite where we packed up quickly to grab lunch in Crockett on the way home. As I stare at the photos from this trip I fall more in love with this little state park. I know we will be back next year!