We're in a phase where I'm ready for the lull in the garden to end a bit, to have more of a haul every few days. Sure, we're still picking peppers, and a bit of beans and okra here and there, but the abundance of late spring and early summer is gone. A few more weeks and we can think about sowing fall and winter crops.
I have been gloriously excited about the Seminole pumpkin bed. Finally, we have fruit! There are at least five small pumpkins out there and one morning as I went out to try to help some pollination along by hand I noticed that the bumblebees were handling it just fine—there were several bumbles in each flower!
One aspect of having the vine as well as two other squash vines is that we do have an abundance of squash flowers. That means I could actually get around to eating them as I've seen many others do. Maybe it is time to look outside the box a bit for our harvests.
A look at the okra and cowspeas, Big Red Ripper (Mandy). I may have screwed up by planting the cowpeas in the same spot as where the sugar snap peas were located. Being that peas (and cowpeas) are nitrogen fixers I think they have been quite happy to grow but not produce due to that situation of ample nitrogen. This is just my theory—the other is that it is too shady back that direction but I don't think that's the case. I did see a flower or two a few days ago and then I thought I saw a pea forming but when I went back out I couldn't find it. I'm kicking myself a bit but that was an open space at the time and I went with it.
The okra has begun producing well, enough for a few pods every couple of days. I'm eating it raw now and am loving it! In fact it is my new favorite raw edible in the garden—not slimey at all! You do have to watch even more for tougher pods than if you would if you were frying it, though, because woody okra is not delightful to chew raw!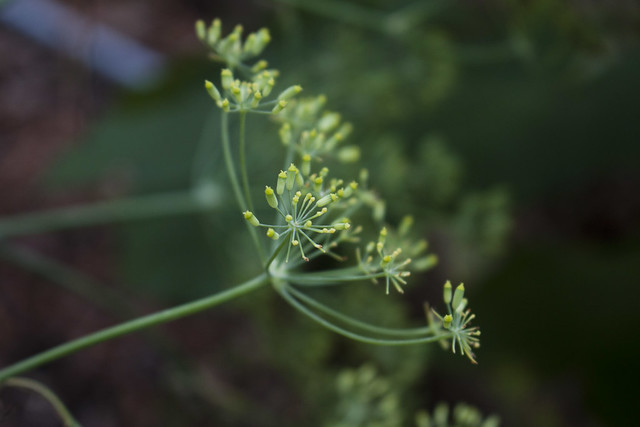 Forest is continuing to love chowing on fennel leaves when he goes out to the garden. I'm sure he will be happy to know dill season is around the corner once again; just need to get more dill seeds!
Though I do enjoy the upcoming cool weather more than the humidity of the summer, I will be sad to have evenings outside dwindle down. The very best thing is getting an hour or so outside after dinner and having Forest play in the yard with me, even if it is more him playing and me pulling weeds. He does love to check out earthworms, spiders, and other bugs. At least with the cooler weather there will be camping excursions once again!
One humid morning of July 22nd I had a few hours to myself as Chris took Forest to get a haircut and do a few errands. With a plethora of ways I could spend that time I opted to start working on weeding the flower garden path. I worked, head down, for the better part of an hour and a half and was making good progress. Taking a break to rest my neck from the strain of looking down, I happened to look up right at the moment a female monarch was visiting one of the milkweed patches. I watched her and sure enough her ovipositor was dotting the milkweed leaves with eggs!
I'd been itching to start raising some monarch eggs this season, to give the new monarch tent a test run and here was my opportunity. I'd read off an on about raising monarchs but because it was never something that I was going to be immediately doing I never delved too far into the research. So, off I went to do a little more reading and fashioned up a container to hold the eggs (still attached to their milkweed leaf) until the caterpillars hatched. A large yogurt container worked perfectly and out I went, looking for eggs. I had a good idea where eggs had been laid but it took some time to peer under each leaf to find them. I ended up with 8 eggs that afternoon.
Every day for the next five days I checked the container looking for hatchlings but none were there until the morning of 7/26 when all but one had hatched! I kept the unhatched one in the yogurt container and moved the other seven to an old Tupperware plate and put a few leaves of milkweed in it and put them into their tent on the back porch. The final egg hatched overnight the following day.
It was exciting to have these teeny tiny little beings that are, at first instar, resemble nothing like what you would recognize as a monarch caterpillar. But they were hungry little creatures and their frass resembled pepper at that point. It was easy to move the leaves to a temporary holding station and dump the frass out, wipe it if needed, and put the leaves back.
That weekend I was planning on attending my niece and nephew's birthday party up in DFW so I knew I would need to take the caterpillars with me. I had read that people used floral tubes to keep the stems of milkweed fresher and from drying up as fast as they do without being in the tubes, but getting to a store to buy those hadn't been easily accessible to me. Since I was going to be at my parent's house that weekend I knew I could pop into a hobby store easily and get some. While I also had three individual plants potted up that I could have taken with me, I only threw some fresh leaves onto the plate and packed the caterpillars up in the back of my car for the ride up to DFW. I had confirmed with my mom that she still had plenty of milkweed in her yard so I wasn't worried about having milkweed for the weekend.
It was on the drive up there that evening that I remembered my dad sprayed their backyard for mosquitoes. They have a horrible problem with them, everyone gets eaten to pieces up there if you spend any time in the yard, so I don't fault them for trying to control that. But I wondered about what the spray was he was using. Because if there is one thing I've learned is that chemicals are not actually as targeted as people like to think. The bottle might say it is for a specific pest but if you actually read the label the list of other species targeted usually gets broader. This particular bottle including several caterpillars in its fold out information sheet and that sealed the deal—Mom's milkweed wasn't going to work. Now, my dad had sprayed several weeks prior but the label indicated the chemical was supposed to keep working for, I think, up to two months. I wasn't willing to chance it.
I was left with trying to buy non-chemically treated milkweed if I could find it or look for wild milkweed. I had previously known there were milkweed patches in some empty fields a few blocks from their house but after almost 32 years of living in that house those fields had now become houses. This was a recent development, too, within the last year. I could not find milkweed close-by. Another alternative was to hit up Tandy Hills Natural Area in east Fort Worth. We were heading to that part of town for dinner Saturday evening so I kept an eye out for milkweed on the way and knew we could likely get some from Tandy Hills if I didn't see any. I spotted some milkweed in some fields off of Beach Street, between Tx 121 and I-30 and made a mental note to stop there if none was found at Tandy Hills. Well, none was found at Tandy Hills so we pulled off on our way home to those empty lots and I grabbed a few leaves to tide them over until I got home the following day.
In between this time, two caterpillars disappeared. I later learned monarch caterpillars can cannibalize each other. Oh, great! I suppose I could have also lost them when I was changing out their plates but I was trying to be careful, so who knows. The milkweed I had found on Beach Street was green milkweed, Asclepias viridis, and I knew I could find more on my way home along I-35, along the strips between the highway and the access roads, on my way home. Sure enough, just outside of the far suburbs of Fort Worth the milkweed started showing up more. I popped off one exit and slowly drove the access road before I pulled over to run out and grab a few more leaves to supplement them until we got home. That made the caterpillars happy and I was glad to pop in some fresh leaves into the floral tubes I had bought while in Fort Worth.
My lesson in all of that is not to trust that chemicals aren't being used on your planned milkweed stock and that your previously known wild milkweed habitat might now be human habitat instead.
After all of that, things went along swimmingly for the most part. One caterpillar did die after we returned home; I'm not sure if the stress of trying to figure out the milkweed situation did that or if it would have happened anyway, but I was sad about that happening. I had originally collected eight eggs and was now down to five caterpillars and I wanted to have those five succeed into becoming butterflies.
Over the next few days they changed instars, molting and growing up. Along with that was a more voracious appetite so I began moving planting into the tent. The tent I had flagged on Amazon that my MIL had bought for me for my birthday was fine and worked great but I quickly realized that I really should have gotten one that was a little taller on all sides so that my plants would fit in there properly. I ended up flipping the tent tall-wise, which put the plastic bottom as a side instead of a bottom and one of the shorter mesh ends as the bottom. I still had to trim off the top of the plants I put in there and I ended up putting the tops into floral tubes for them to chow. Since then I have gone around the milkweed patches looking for smaller, single plants to pot up and now have more containers that I can switch out. For further caterpillars I raise I will likely employ more of the floral tubes with leaves until I can get my plants recovered and new leaf growth going.
By the following weekend of 08/4-08/05 they were all in instars 4 or 5, and getting fat and happy. Frass was now the typical pellets you see for larger caterpillars so it was harder to clean out. Now that the caterpillars were on plants I could easily just take the plants out and dump out the frass into the flower beds and be done with it. The only bad part was staining on the mesh because I'd had to flip the tent. I think I will put a towel down on that for subsequent rounds.
One caterpillar was noticeably slowing down on Sunday 08/06 and I suspected it was going to pupate soon. Sure enough when I woke up on Monday 08/07 we had a chrysalis! It had formed on a leaf and I didn't think much of it but when I came home at lunch I found another caterpillar had brazenly eaten around the chrysalis; the chrysalis had been attached to the mid-rib of the leaf, and now the leaf was having trouble supporting itself on the plant and had bent over. I cut the leaf off and found a stick and taped it up to the stick and to one of the containers. I knew that people regularly moved chrysalides, using pins or super glue to stick them other places, or using floss to tie them to something else. Being a newbie to this whole thing I was nervous about doing any of that. Since the chrysalis looked fine attached to the sturdy mid-rib of the leaf I thought it would be fine how it was.
The other four kept chowing down and then the second went into chrysalis overnight 08/7-08/08. And then the third I found the morning of 08/09. The evening of 08/08 I had been having to repeatedly move two of them because they were actively searching for a place to pupate but were huddled up next to the zipper of the tent, not a good place to be! Finally they got the hint and moved to different places that were much safer for them to be and began getting themselves ready to pupate. When I came home from lunch on 08/09 I found one of them in the middle of pupating, a situation I had never seen before and had only recently watched on YouTube. It happens so fast, much faster than I imagined! I was planning on working out during my lunch break and when I left the last caterpillar was in its J form and when I got back it had completely pupated. I was gone for about thirty minutes. Quick!
After that things were relatively quiet for a few days. I tried to move some of the frass out of the bottom that I could without disturbing everyone but it was difficult to do. On 08/12 I noticed chrysalis #2's leaf had started dying so I really needed to move it and that prompted me to finally research securing them by other means. A few YouTube videos and I was more confident so I grabbed my floss and got myself together and got out there to fix the two chrysalides that needed help. First I tied up and secured the first one I had moved because it was easier to get to and would be a good trial run of the process. It was easy so that helped me feel better about doing the second, which also went fairly easily.
On Sunday 08/13 I noticed that the first chrysalis was darkening along the bottom, slowly getting darker along the entire chrysalis by the next day. That Monday evening I wondered when it would eclose and by Tuesday morning I had my answer with a butterfly hanging outside of the chrysalis drying its wings! That happened a lot faster than I expected!
By this time the second chrysalis was also darkening and now that I knew how fast the transformation went I was ready for another one on Wednesday morning. Sure enough when I got downstairs Wednesday morning the second one had its wings completely unfurled and a third had had eclosed but had its wings still crumpled a bit. It was definitely fresh out of the chrysalis! The last two were very dark in their chrysalis and you could see their wings; they would emerge that morning while I was at work, that was plain to see.
When I got home for lunch on Wednesday all four were emerged and the two from that morning were very active and ready to get going and out into the world. I opened the tent and after a little hesitation the first two flew out and fluttered off into the world. The other two that had only emerged a few hours earlier weren't quite ready and were content to beat their wings just a little and continue hanging from the top of the tent. I let them be and kept them for evening when Forest would be around to help release them. In all there were four males and one female.
After they were released, it took some getting used to not looking out the back door to the tent to see how the caterpillars were faring. Yesterday I cleaned up the tent. I've been watching for more females visiting the milkweed to deposit eggs but until yesterday morning I had only been seeing a variety of males nectaring in the garden. Some of them have had quite a trek as they've moved south, with wings beaten up and worn. One opted to end his life cycle in the garden. I found him laying in the middle of the path with fire ants trying to work on decomposing him. Life.
I did finally see a female depositing eggs yesterday morning so Forest and I went out searching for more eggs. Because I wasn't actively looking where she was laying her eggs at the time it took a little more effort to find the eggs and I came out with ten. I am sure there are more, though.
And so I'll go for round two!
Resources:
How to Raise Butterflies Inside
Raising Monarch Resources
Part I: How to Raise Monarch Butterflies at Home
How to Raise Monarch Butterflies at Home Yes, this is a different link but similar title.
I kept thinking that at some point this summer I would be all "caught up" in the flower garden, enough to sit around for about three days to enjoy the look into a non-existent state of garden homeostasis and relish the garden for a few moments. But, I never got around to that for a variety of factors. The weeds stayed in the path–though the path got weeded in parts–but it never made it to fully being weeded; the deer continually barged through, digging around for roots or whatnot, ripping plants to pieces or pulling them out of the ground in the meantime; and while I managed to keep one or two beds maintained at a time, I never got around to having all of the beds maintained all together at one time.
With all of that said, there are plenty of glorious views in the garden and if I can get past looking at the weeds that need to be pulled, plants that need to be moved, or whatever else, I can find plenty to enjoy around here.
While there are many parts of the day that I enjoy being in the garden, evenings are by far my favorite. The light makes everything look more pleasant and wild, like the mess is supposed to be there.
The beautyberry on the side of the house spreads every year and I've never regretted keeping it and making it part of the flower bed, though it always gets a trim in late winter.
And despite a lot of time without rain through July, the sprinklers had no problems sending the rain lilies into bloom.
Our thicket of tropical milkweed has thrived this summer. It makes this particular bed look more finished than it has in a few years.
Ah, there would be one section of path that hasn't been weeded yet. Sometime this winter when the weeds are gone it will be time to get more decomposed granite to put down so that maybe next year won't be so bad weed-wise. The 'Wendy's Wish' salvia has bounced back from the freeze quite well, though not as bushy as it was last year, and the bees, butterflies, and hummingbirds have been enjoying it immensely.
Some beds switched places in regards to lushness—others that were fuller in previous years were a little thinner this year than other beds.
I am sensing the slow change in seasons, too. The sun is shifting on the horizon and while we won't have cool weather for awhile, I'm itching for a bit of crispness in the air, to garden without dripping in sweat.
Slowly. But first, we get through August.
One thing that was been hard for me to adjust to over the last three years since Forest was born was not being out and about in the evenings. Where our house is located, it makes driving anywhere a bit of a chore, about 20 minutes into town and then further for just about anything else, and having a newborn, then older baby, and then toddler, made going out after dinner or doing anything else not worth it. Before Forest was born Chris and I had a standing dinner night out during the week, and we attempted to keep that up during my maternity leave but it became clear evenings out were not in the cards for us and we quickly switched eating out during the week for a weekend lunch out.
And then of course as Forest got a little older there was bedtime and meltdowns to contend with and it still just wasn't feasible. But over the last few months I've made some treks out (Chris has always gone out, of course, while I was nursing Forest or putting him to bed) and being out in the evenings feels like revelation of sorts, something I'd completely forgotten about. I enjoy spending time at the house but I do miss running out to wherever, whether it was for errands, dinner, or evening hiking or exploration. Slowly, it seems, we're able to add that back in a bit.
All summer I've been hankering for a short hike or exploration at a local park after dinner but we've just never had the chance or made the time. After the brief cool front last week that turned the temperature down from 100* during the day to 90* during the day I knew I needed to get that evening time in before the months slowly ate up the daylight in the evenings. Those golden hours are already fading as we head into August.
So, we went out for a walk to Kleb Woods. Recently we bought Forest his first backpack, one suitable for hiking, complete with the two straps across the front of the body. It's an REI Tarn and made especially for little kids. It took some getting used to, enticing him to wear it, but when we let him know he could carry some toys and his gummies he was a lot more game to wear it. And he wore it for about 3/4 of the hike the other night!
We hadn't been to Kleb Woods in quite awhile and I wanted to start off at the entrance on FM 2920. It has a long area of mostly loblolly pine and yaupon with a small wetland area before it connects up with the wider area of the park where a little nature center and the original farmstead that Mr. Kleb lived in is located. (You will want to read that link!) It was 0.7 miles from the parking lot on FM 2920 to the nature center and walking with toddler legs took time. We paused a few times to swat mosquitoes, look at ripe grapes on the muscadine vines (I snagged a couple—tasty!), and ogled at the beatyberries. Forest kept calling the beautyberries grapes and we had to keep correcting him.
Along the way Forest managed to find the perfect stick to use as a walking stick and he kept it for the majority of the hike. Unfortunately I think he's got my tripping on over roots and sticks gene because there were several near misses. Finally we made it to the nature center where we took a short break, looked for hummingbirds in their garden area, and scoped out the little pond near Mr. Kleb's old shed. Chris found a bullfrog and pointed it out to Forest and later Forest declared that was his favorite animal he saw during the trip.
The return trip was slower, which was a bit problematic because the park closed at 8pm. The sun was lowering on the horizon, the forest was darkening, and Forest was slowing. He ditched his backpack, sweat wetting the back of his hair, and we kept plodding along. We weren't far from our car when we heard the security truck over a loud speaker proclaiming the park was closing. I ran ahead to flag that we were on our way and we hustled to get out of the park and home.
I don't know if we will have any more evening hikes this summer but I'm glad we got this one in while we could.
I took a binge into fiction-land the last two months. Must be something about summer!
Completed
The Scottish Prisoner by Diana Gabaldon: In prep for Season 3 of Outlander I read this stand alone/Lord John Grey novel that takes place in the mists between book 2 and 3 in the Outlander storyline. This is a Jamie and Lord John centered story and gives some backstory on how they became friends instead of just guard and ward. It was captivating and I really enjoyed it, and it also answered some other outlying questions that we don't get in the main series.
Letters from Paris by Juliet Blackwell: This present day story begins in rural Louisiana and is about a woman disconnected from her life in Chicago, coming home to take care of her grandmother in her last days, and finding there are answers to her past unsolved. A broken replica mask in the attic and a strange letter sends her to Paris where she first soothes her soul with being a tourist but finds herself working on the side in the shop that had made the plaster mask. A sweet story ensues and it took me quite awhile to figure out one of the two mysteries in the story. An easy and enjoyable read.
Rose Under Fire by Elizabeth Wein: After reading Code Name Verity last month I knew I had to finish up the series. This takes place after CNV but involves another set of characters almost entirely, with references to a few of the other characters from the first novel. I actually enjoyed this novel more despite it being very tough to deal with at times—heavy concentration/work camp imagery.
The Pearl Thief by Elizabeth Wein: A prequel to CNV, this revolves around the main character in CNV in her adolescence, with a backstory on her life pre-war. You get a sense of who she was becoming and it was a bit disheartening knowing where her life would end up. I enjoyed the story, though! Pre-war Scotland and some aristocracy talk.
Blackmoore by Julianna Donaldson:
Pure Regency romance, this book. There are some characters in here that were annoying and a bit implausible—think Mrs. Bennett from P&P on steroids—but otherwise entirely entertaining.
Edenbrooke by Julianna Donaldson: Since I was on the Regency romance bandwagon with the novel above, I went down the rabbit hole with this one. Edenbrooke was far better of a book and I could handle this one made into a movie. It's even better on the romance section with some swoon worthy moments and the main male character has some Mr. Darcy-esque moments with a more likeable personality. He's a combination of Darcy and Bingley in a way, without Bingley's goofiness. Hard to explain, but if you like Regency romances, this is one to pick up.
In the Middle Of
Gaia's Garden by Toby Hemenway: I got this one for my birthday and am about 3/4ths of the way through but it is not a book you just read straight. It's one to pick up over and over again through the years.
Companion Planting for the Kitchen Gardener by Allison Greer: I started this one back in June but it is on hold for now. I need to do more companion planting.
Coming of Age at the End of Nature: This is probably one to put on hold, it is essays about the environment from various GenX and Millenials about the doom and gloom of where we are headed. It's good but not a read straight through kind of book.
Unlatched by Jennifer Grayson: Finally picking this ARC copy up that I received from my friend Lisa awhile ago and am really enjoying it so far. I'm not that far into it but she's got a lot of great information about the state of breastfeeding in US.
Still Reading in Bits
Braiding Sweetgrass by Robin Wall Kimmerer: Haven't been in an audiobook mood lately so this one has been in bits and spurts. I only have about two hours left to listen.
The Magic of Motherhood by Ashlee Gadd: A compendium of essays from the Coffee + Crumbs ladies. A slow read, an essay at a time.
What are you reading?
The current lull between crops is actually very soothing for me. Sure, there's weed pulling, supplemental watering, and something I'm trying to be better about—fertilizing with fish emulsion—but there's not a lot of harvesting going on. Blackberries are completed, the beans stop producing when it gets too hot—if we get a light front come through with rain there's always a new flush of fruit—and squash and pumpkins have yet to begin producing.
There's a lot of growth, though. With the Seminole pumpkin going gangbusters throughout an entire bed, two squash plants attempting to thrive, and new rounds of beans being grown, I'm happy with this later summer growth. In addition, the okra is getting to the near flowering stage and I'm excited for it to begin producing because I just found out you can eat okra raw and it supposedly tastes really good. The tomatoes I planted for fall are doing well for the most part. A few that got a little bit of a later start are struggling a bit but the others are growing well, including one of the Roma plants I did not rip out—it is putting on new growth! I definitely think starting seeds when I did in mid-spring and keeping them in containers on the side will be the way to go for the future but only time will tell. I have been seeing people just starting their seeds in early July, like I did last year, and I'm skeptical about them getting enough growth for a fall harvest before a freeze. It's what happened to me last year. I'll be interested to see how my plan works out for me this year.
It's mostly quiet out there with some tinkering going on from time to time. I've been focusing on the flower beds over the last week, making progress on the path and a few of the other beds, including the one that wraps around Chris' man-cave. Fire ants abound in just about every bed and they aren't bothering to mound, either. You can easily pull a plant up and with it a pile of ants that you quickly have to throw into the grass to avoid being bitten.
The afternoon and early evening thunderstorms have continued to evade us the last week or two and it is really showing around our neighborhood. Not only are some of our smaller trees looking stressed but the native plants like beautyberries are looking haggard. We could use an inch or two of rain this week but I don't know if we will get it.
I hope to get out and take some updated photos of the flower beds soon to share with y'all!
+In My Head
I've got a lot on my mind these days, namely some things surrounding pollinators and separately, plastic. Both of these deserve their own blog posts to be expounding upon but I'll get to that at a later date.
Regarding pollinators, my main qualm is hornworm hate and the lack of interest in other pollinators other than the big two: monarchs and honeybees. Now, don't get me wrong I love both—I grow milkweed for the monarchs and we have a honeybee hive. But I'm also very interested in creating an equal opportunity (mostly, I'm not sure we need mealybugs or scale.) wildlife habitat and trying to come to terms with caterpillars who use the edible garden for their life cycle. Maybe this includes being more proactive in using netting over the brassicas in the winter instead of spraying Bt. It makes me a little queasy when we have such a problem with declining insect populations. Sure, Bt is organic but organic kills, too. Like I said, there's a lot to wrap my head around and do some research on this topic, but it is something I've been pondering. This post on Garden Rant the other day had me nodding my head in agreement and glad someone else was mentioning it, too.
On the subject of plastics, this is something that has also slowly been building. Sure, we usually bring bags when we go shopping, though not always, but we try. I've also been noticing just how much plastic is covered in other things from food products we buy to things like cutlery at restaurants. It's been a recent change at Chick-fil-A I think, but now their plastic cutlery is individually wrapped in plastic. I mean, plastic cutlery was bad enough but additional plastic around it? Arrrrrrgh. And straws are something that I've thought about in passing but never really thought a lot about until the last six months and now I'm attempting to start not using them when I can. Chris brought up that I need to actually hand it back to the waiter at restaurants because if it was left on the table it will probably be just thrown away, too, even if unopened.
I started thinking about plastic even more last month when the Slow Home Podcast talked about Plastic Free July. There are lots of ways to take the reduction of plastic consumption to further steps and hopefully we can start implementing some of them. One thing I've been better about lately has been to take my Nalgene with me when we go out on weekends. There's nothing more annoying than having to buy a bottle of water because I'm thirsty! I don't drink sodas so having to buy water just irks me.
So, I'm really thinking hard on these two subjects as of late.
+Watching
Not a whole lot. I am super stoked about the Outlander Season 3 Trailer. The new season debuts in September! I watched Bad Moms over a few evenings and caught the last 30 or 45 minutes of Free State of Jones and then went and found it airing at a later time to record the whole movie so I can watch it in full. Most recently I watched Lion, which I highly recommend.
Not watching a whole lot around here!
+Outside My Window
Green with slight tinges of brown because all of the afternoon thunderstorms that have popped up recently have been avoiding our house. Yesterday it thundered from all directions for several hours but every cell kept moving around us. We've had a light shower here and there but nothing that would result in a good soaking and we really need it.
+In The Art Studio
I went over to the studio this morning to do some cleaning up while Chris and Forest went to the grocery store. I finally feel like I'm getting to a point where I want to be there again and once I wrap up a scrapbooking project I think I can bring Forest over to color on the table while I do other things. I found a blanket I was making for a friend's baby two years ago and I thought it was still in a state of disarray but apparently all I need to do is put the binding on it. So, that's one project I can work on!
+In The Garden
Over the last few weeks I have been working steadily on getting the paths and beds in the vegetable garden to a state of less weeds and I finally feel like I'm semi-on top of that now. I've moved over to the flower beds again and have been working on beds and the paths as well. I noticed a female monarch laying eggs yesterday so I went around and found 8 of them and collected them to hatch and raise over the next few weeks. Hoping I'm successful in getting them through their full cycle!
+Reading
I hit a lull recently but just devoured Blackmoore by Julianne Donaldson over the last two days. A June and July book report is on the agenda soon so I will be sharing more of my reading soon.
+Loving
+I'm really loving the last few weekends at home. Being able to relax in the middle of the day and watch movies with Forest has been wonderful.
+Aristolochia fimbriata seed pods!
+The Seminole pumpkin taking over an entire bed. Waiting on it to start flowering, though.
+Painted lady beans beginning to bloom!
+Woodstorks on the pond! We've never seen them on our pond! I can't remember if it was before or after Forest was born, but I was driving on Tx 6 between Hearne and Riesel somewhere when I looked over and saw birds flying. I did a double take because I thought they were ibis at first and then I realized they were woodstorks. I hadn't seen any more since then, but when Chris came running outside where I was pulling weeds one evening exclaiming that there were woodstorks out with the roseate spoonbills, we rushed over to try to get photos. I got a few photos in passing with the 50mm lens that was on my camera before they flew off. We haven't seen them since, but maybe we will get them again before the summer is out.
+Getting Grow Curious in the mail last week. It is the first and only Kickstarter I have ever backed and I am extremely happy with the book and what Gayla has created. It reminds me a little of Wreck This Journal by Keri Smith in the thinking outside the box creativity.
What's up with you?
I find myself longing for hikes and camping these days. Most everyone else not in the humid south is out enjoying hikes and adventures and here we are sweltering in Texas, hibernating indoors during the afternoons. This is fine, I enjoy letting Forest play upstairs for awhile as I read a book or do some chores. I peer outside the windows at the garden or pond, often falling into a daydream. It looks enticing to get out there but the heat has a way of making us cranky. I've actually been enjoying getting a run in at lunch twice a week with the searing sun beating down—the only thing I keep forgetting that would make it more enjoyable would be to get my hat off the rack when I leave the house and maybe slather some sunscreen on my arms. *Duly noted.*
Over the 4th of July weekend we were at Chris' mom's east Texas house for a few days. It was last 4th of July that I had taken Forest for a mid-day walk in the stroller to get out of the house for a bit. He wasn't quite two yet and playing outside with some self direction wasn't on the table at that stage so off we went for some diversion and sanity. I ended up finding a little trail to explore at a later date and made a mental note to go when I could. It only took a year to get back there but I finally got to explore the trail.
Chris, his mom, and Forest went fishing one evening after it had cooled down a little and I took the time to explore the trail. I knew it wasn't long but my goal wasn't to put in some miles but really to just go see what I could find, enjoy the evening, and get some peace and quiet for myself.
I found it.
The trail was wide at first, following a slight slope down a cleared powerline before turning towards the bottomlands adjacent to a creek. Ferns stretched wide across one section and I was immediately enticed to stop and search for tiny bits of delight. Plants were labeled in some areas but I didn't have a field guide for some of the ferns so I wasn't sure if the labels were accurate.
Only wearing tennis shoes, I didn't linger in the fern areas long as I didn't want to get my shoes wet. Moving down the creek I saw the sun was lowering on the horizon, rays of sunbeams reaching through the forest canopy. The creek bed was made of red clay and the sunlight made it look more spectacular than it might have been during the middle of the day. The nearness of a populace and access to the road meant there were pieces of trash here and there.
If I'd had boots I would have climbed down into the creek bed and begun walking up the creek but I kept to the banks and went looking for plants and interesting tidbits beyond where the trail dead-ended. I wasn't disappointed. Getting off the beaten path is delightful and I haven't done it enough in recent years.
I tinkered around for awhile and then got the feeling I needed to check in with the other three. Sure enough Forest was being very toddler-y and needed a little mom time. I attempted to get him to come back to the trail with me, which he was interested in at first, but quickly became even more challenging and wanted to be in the company of all of us. Bedtime was calling and things were going downhill fast with toddler behavior. No extra trail time to poke about a little bit longer, though I know he would have liked going if he'd been up for it.
It wasn't much but sometimes you take what you can get and hold onto it until the next time.
Every morning after I wake up I realize that I get to have coffee. And on weekends I realize I get to have it while sitting on the couch, relaxing. It's such a small delight but it is one that makes me very happy.
For the moment the house is quiet as Forest and Chris are on the porch working on a leaky faucet. There's a rosy wolf snail crawling on the siding on the porch and someone is chainsawing across the pond. Last night's thunderstorms are gone and we've got a warm and sunny morning gracing our day. Today I'm hoping for no rain so that I can do some garden chores that I didn't get to yesterday. It's time to get another last summer crop sown, something I wanted to do about two weeks ago but I just hadn't gotten to it. The blackberries are done and I need to prune the dead vines off the fence so it will look a bit cleaner and let the new vines grow for next season's crop.
My birthday was last week—37! Didn't I just turn 30?—and I got a couple of garden related items from Chris' mom: a butterfly tent for raising caterpillars and Gaia's Garden, a book about permaculture. I did see a monarch the other day, something I hadn't seen for awhile, so maybe they will be migrating back through here soon. The milkweed became its own ecosystem this year when the oleander aphid population swelled, and the milkweed bug population blossomed, and then the ladybugs came in with their are cute alligator-like larvae all over the plants, in addition to juvenile green lynx spiders. I also noticed something different than I was used to and I figured out that it might have been a syrphid fly larvae. I'm sure there were/are other critters that I haven't seen yet but it has been such a fun experience seeing what all have made the milkweed home this summer. I need to start looking more carefully for monarch eggs so I can begin raising them.
Over Christmas I received some money and Amazon giftcards from family and mostly squirreled away the money until I could figure out what to buy. I used some of the cash to beef up my summer clothing wardrobe a few months ago but I finally put some other birthday money into the pot and decided to buy a full sized digital piano. I played piano through my growing up years on a smaller sized keyboard and have always wanted an actual piano. A piano is not in the cards at the moment but a decent beginner keyboard was so I found one with good reviews on Amazon and it arrived last week. I still have all of my sheet music from those formative years and while I am very rusty I can manage to play some of the very basic tunes. I'm having to remember where to place my fingers and how to read some of the notes (thank you younger self for writing in the notes!) and now I need to Google some of the other accompanying symbols and language to get up to speed. I'm hoping with some practice I can be decent enough to teach Forest a little and maybe he will want to learn himself in a few years. We'll see!
If you don't visit the site much and read in a feed reader or via email, could you pop over to the blog and check it out? I actually updated to a WordPress theme instead of keeping the coded HTML that I've used for years. It took some banging around with dealing with the CSS but I finally got it to look decent, but if you are viewing it on a phone, tablet, or just another computer, can you take a peek and make sure it looks alright to you too? It had been awhile since I did any banner changes and I also streamlined a bit more on the side bar. I have a few more favorite posts I want to add to the side but other than that I think it is how it is going to look for good while.
Happy Sunday friends!
Did you know there are a ton of skipper butterflies? I sat down yesterday to try to identify this one flitting about on this anise hyssop (Agastache foeniculum) the other afternoon and and I came up empty handed on an identification. There are a couple that look similar, and man, I lost patience pretty quickly with it, wishing I was flipping through a book instead of the internet. We have a butterfly book for Florida, Butterflies Through Binoculars, and it is helpful sometimes but the different region definitely makes it difficult to figure out solely from that book sometimes.
I really love the anise hyssop for the sole fact it is pollinator friendly and *crossing fingers* the deer have not chomped it down yet. Maybe they aren't hungry enough? I thought they didn't like lemon balm, according to internet sources, but they do. They've kept the lemon balm nice and tame this year instead of its usual cascading-over-the-bricks-and-into-the-path manner. Also, the anise hyssop spread easily by seed so it can fill out an area of the garden if you want it to. I've seen several people mention other varieties of agastache on their blogs and I'm very interested in possibly diversifying with more cultivars around the garden because of both of the reasons listed above.
We are definitely hitting the height of summer where we want to hibernate inside for a lot of the day. You can look outside and feel the humidity and heat from the comfort of the A/C and know that you'd be sweating in a few minutes without doing much other than sitting.
I'm trying to drink it all in, this summer, but we got a taste of fall the other morning when a storm front came through—darker than typical at 7:30 am and in the low 70s—and it had me yearning for early October.