Indian Lodge Trail | Davis Mountains State Park
I'm going to skip ahead a bit as I edit photos of our time at Davis Mountains State Park and go straight to our first hike on the Indian Lodge Trail on our first full day at the park. I'll be putting together other posts about our campsite, trips to the bird blinds, wildlife, and sunsets at the overlook on Skyline Drive separately.

Woodhouse's Scrub-Jay, Aphelocoma woodhouseii
We drove over to the trailhead and parked in the parking area behind the lodge. A scrubjay was perched in some trees nearby so we took the opportunity to get a few photos before we started. I had been calling these scrub jays 'western scrub jays' but apparently that has now been split into three distinct species, with two more California/west coast dominant and this one a little more broadly represented throughout the western US.
It was pretty cold that morning and we were layered up for the climb. During most of our stay it would be fairly cloudy or foggy in the morning but burn off by around 10am. We were about halfway up the mountain when the fog finally lifted in the valley.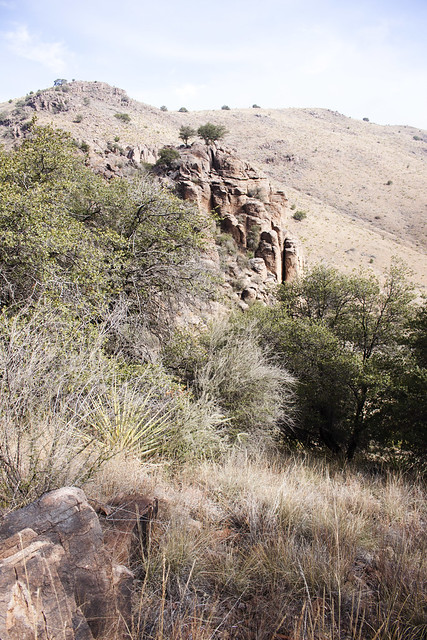 The hike up wasn't terribly strenuous but there were plenty of stops for lungs to acclimate to the ascent. I was also prone to stop just to look at my surroundings in a landscape we don't see often.

A yucca and tree cholla, Cylindropuntia imbricata

We made it to a rocky false summit and Forest wanted to climb on the rocks and have a quick snack. It was a good opportunity for water. Lately I've been taking my Hydroflask or Nalgene for water on hikes that aren't terribly long but I'm finding I really miss the easy water access from a Camelbak so I'm going to have to start remembering to use that more often.

Rainbow Grasshopper, Dactylotum bicolor

Nearing the top we encountered the fenceline and the other side on private property looked ripe for exploring. Oh, how I wish we had more park lands in Texas! This area reminded me a bit of our hike from Dog Canyon to Pine Top Campsite in Guadalupe National Park in 2011.

Woolly Locoweed, Astragalus mollissimus

A short side trail led us to the top of this particular mountain with stunning views all around, including a look at the McDonald Observatory about 15 miles west.

I think this is Silver Ponysfoot, Dichondra argentea

Havard's Century Plant, Agave havardiana
One thing I did love about this area were the amazing agaves! Just stuch stunning plants in the landscape!

Keesey Canyon and Tx 118, the state park is on both sides of the road here.

As it was nearing lunch time we were on a mission to get back down to the lodge where we would eat. The lodge serves food during certain days of the week and Sunday was the last day it would serve it during our stay. Chris had worked a lunch here into our meal plant for the week. Forest was starting to lag at this time and going downhill was proving to be trickier for him than going up in order to keep him from falling. Unfortunately not long after I took this photo I looked over to shoot the next photo and missed Forest falling into a piece of broken cactus that was in the trail. Tears ensued and a few minutes were spent pulling spines out of his body and clothing. Oh boy, then he begged to be carried which was just not a good idea heading downhill and without the backpack carrier (which we haven't used since, what, last spring??). It was rough going from there until the road.

Threadleaf Groundsel, Senecio flaccidus

We took one part of the Montezuma Quail Trail down to the road and walked back to the lodge and restaurant. In all I think it was around 2.5 miles. And we made it back for lunch, which was a buffet with a bit of a Thanksgiving theme. I was bummed that I missed the last bits of the peach cobbler, though!
We really loved the trail and if Forest hadn't of fallen the last quarter of the hike would have been a lot smoother. This hike was just prep for the bigger one we'd do the following day.